Can the Spurs get back on track now that Manu Ginobili returns? Will Marc Gasol keep up his production? What about all the fouls?
Posted by Matt Moore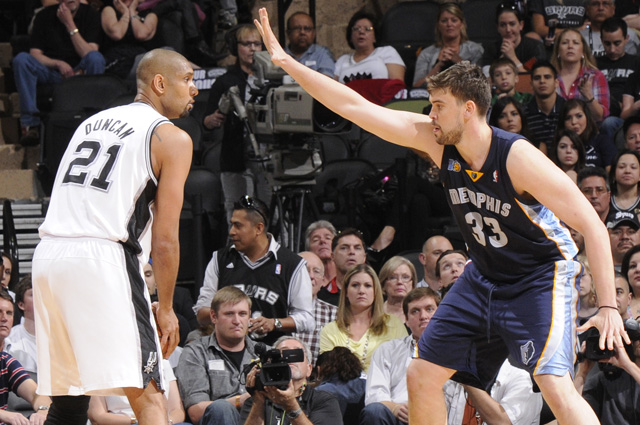 The Narrative:
Manu Ginobili's going to help. A lot. That's why he's Manu Ginobili. The Spurs very nearly beat the Memphis
Grizzlies
without Ginobili, and since he's the Spurs best/second-best/third-best player (depending on who you talk to), it's not arrogance for a Spurs fan to feel like all will be well once Manu hits the floor for Game 2. The Grizzlies have two of the best perimeter defenders in the league in
Tony Allen
and
Shane Battier
. Allen will try and body Ginobili, to wear him down physically, specifically on that sore elbow. Battier will try and distract and frustrate him with precision and consistency.
Neither is likely to succeed.
Ginobili has a wide range of basketball talents. Shooting, driving, particularly to his left, and a hesitation dribble followed by a burst where applicable. The Euro-step. But also among those talents is flopping -- the art of drawing the foul. Allen has a reputation for falling for the pump-fake. Combine the two and you've got a recipe for three quick fouls in the first half on Allen, and five by the 10-minute mark in the fourth. Battier will do better in avoiding said fouls, but he also doesn't have the speed anymore to stick with Ginobili on the drive. Considering the Grizzlies' notoriously slow rotations in the paint, Ginobili could have a big game in his return.
The Hook:
And all of Ginobili's wiles won't help with the biggest problem the Spurs had in Game 1. He can't guard Marc Gasol nor
Zach Randolph
. More than one Spurs fan remarked after Game 1, "There's no way Marc Gasol goes off for 24 points again!" Then they guffaw. There's much general guffawing. This is likely due to their not being aware that Gasol was one of the league leaders in field goal percentage last season. He shot 53 percent from the field this season, and it was a down year for him. He struggled with his shot for most of the year before correcting it in the last two months of the season, and shooting 56 percent. As for why his point totals never got that high? He's not often asked to be a big scorer in the Grizzlies' offense. His responsibilities are more focused on facilitating ball movement at the pinch post, working the offensive glass, and setting screens. But to confuse his versatility with an inability to convert his opportunities into buckets is to short-change Gasol.
Tim Duncan
said after Game 1 than he didn't focus on Gasol because he was concentrating on Randolph. That's going to be key in this game. Antonio McDyes can't check him, Gasol has too much quickness.
DeJuan Blair
can't, Gasol has too much length and agility.
Matt Bonner
can't because... well, he's Matt Bonner. So it comes down to whether Duncan can shut down Gasol. Zach Randolph's going to get his. But if Duncan can shut down Gasol, it will put the Spurs in a much better position. If he can't, it's going to be an issue for San Antonio.
The Adjustment:
The Grizzlies did what they do in Game 1, not sending help on perimeter penetration, letting the Spurs get where they wanted and picking up about seventeen hundred fouls. It worked out in some ways for Memphis, they avoided the Spurs' perimeter shooters daggering them to death. But giving up so many free throws is not a sustainable approach. Part of that will fluctuate from officiating crew to officiating crew. But I've yet to see a crew who doesn't give
Tony Parker
the benefit of the doubt when he launches himself to the floor following contact. Memphis has to be able to defend without fouling, which means smarter, better rotations and help defense, which the Grizzlies have not done well all season. If the free throw disparity keeps up in this series, Memphis' hopes for an upset are dashed.
The X-Factor:
George Hill
was aggressive in Game 1, but eventually became frustrated as the Grizzlies switched off on him and Tony Allen got his legs under him. Allen may spend more time defending Parker in Game 2, and going forward. But more confusing was the solid defensive work
O.J. Mayo
did on Hill in Game 1. Mayo is not a great defender, but his lack of size isn't compromised against Hill, and Hill was unable to shake Mayo. Hill is the superior athlete and player, however, and could have a big impact if he shakes off his frustrations from the second half of Game 1 and gets back to the damage he did in the first half. The Grizzlies' bench is thick offensively to begin with. The Spurs can deliver a knockout blow if Hill leads a charge off the bench with Manu Ginobili back in starter rotations.
The Sticking Point:
How do you defend the drive-and-kick, ball-movement-led corner 3-pointer in the NBA? The traditional model is to "run it off." Close as hard as you can off the help defense, swinging your arms wildly and praying to distract the shooter enough to get his aim off. The Grizzlies did a fair amount of that in Game 1, but also threw in another element. Memphis' best defensive element is their ability to create turnovers by playing the passing lanes. The Spurs did a great job in Game 1 of avoiding turnovers, winning that battle 16-10. But the Grizzlies impact was in preventing opportunities, as the Spurs were cautious with those passes, and when they did make them, they were often adjusted to avoid interception. This strategy usually led to struggled catch-and-shoot situations, forcing a reset. The Grizzlies can't let the Spurs kill them with the corner three. If that happens, Memphis will drown under a tidal wave of the Spurs' biggest strength: their offense.