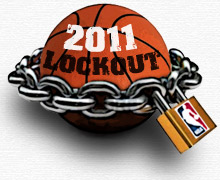 By Matt Moore and Ben Golliver
It's the latest "Judgment Day" in the NBA, and it looks like this one will actually have a substantial impact. To keep up with all the develoments, check back here. We'll have links to breaking content, updates on the "whip count" of players who say they want a deal, and updates from Ken Berger in New York at the meeting scheduled for today.
Wednesday 8:30p.m.


Nearly eight hours into the negotiations, we are getting our first indication at how Wednesday's meetings are going.
Ken Berger of CBSSports.com reports: "a person briefed on talks says they are 'moving slowly. They're trying to get something done.' There've been "no blowups," the source said. Progress is slow, but the effort to reach an agreement is there. As far as tangible progress? Another person directly involved wouldn't characterize it that way. Effort and progress are different issues."
Yahoo Sports reports that "the NBA and NBPA have made significant progress Wednesday night toward reaching a deal," citing "two sources briefed on talks."
ESPN.com reports: "One pessimistic GM told me he hears that good progress is being made...still, he's only cautiously optimistic."
SI.com reports: "There is an interesting level of optimism among the NBA executive ranks regarding tonight's talks and how this night will end. Even some agents who don't necessarily want a deal tonight are of the mind that one will be done."
Wednesday 5:00 p.m.
We are still alive. Talks continue. How u.
Wednesday 4:55 p.m.

We're about 12 minutes away from the 5 p.m. deadline imposed by David Stern on a deal before the owners retracted to the "Cap Reset" offer. But the New York Times, CBSSports.com's Ken Berger, and other analysts are in agreement that the deadline is irrelevant as long as talks are ongoing. The deadline is effectively extended until after the negotiating session ends. If they get a deal, it's not needed. If they don't, then it'll either go into effect or it will have been a total bluff if they continue to negotiate over coming days. So the wait continues.
Wednesday 3:15 p.m.
Ken Berger of CBSSports.com emailed this in:
As of 3 p.m. ET, here's how I see the storylines taking shape:

* The players wisely turned the ultimatum back on the owners by signaling a willingness to agree on the economics of the proposal -- a 50-50 split that would transfer $330 million a year to the owners, or $3.3 billion over 10 years.

* The pressure is now on the owners to make the few system concessions that the players need to shake hands on a deal and sell it to the membership.

* Is there a but? Oh, theres always a but. In this case, there are several. Allow me to shatter your optimism and list them:

1) But league negotiators have long insisted that, even if the players conceded every penny of their $300 million in annual losses, it still wouldn't be enough because that would merely make the NBA a break-even business as a whole.

2) But the league feels it needs major system changes -- especially a harder luxury-tax line -- to flatten out the payroll disparity and make the product better so it can grow its way out of zero-profit mode. That is why deputy commisssioner Adam Silver has said repeatedly that the two issues are separate. Presumably, so that when the league finally gets all its economic concessions, it can continue to push for more on the system.

3) But the players haven't even missed a paycheck yet. (The first ones would've been set to be cut Nov. 16). If they haven't lost a dime yet, and are already at 50 percent of BRI, how much further would they go? An inquiring owner may ask himself such a question.

The real question is, as it always has been: How much of a victory do the owners want/need, and how do they balance that against the collateral damage of lost games AND the chaos that would ensue if the players began the decertication process with no deal Wednesday. The uncertainty -- both legally and timing-wise -- that would come with a failure to compromise at this point could outweigh the desire to get more concessions from the players. There is a risk-reward construct here, and it's a serious one, with a big downside.

Not the least which is the fact that you, the fans, are informed about what the players have conceded in the negotiations and that the owners would be trifling with the game over a few system issues when they've already won on the economics in a landslide to the tune of $3.3 billion. Not even David Stern could successfully spin that one.

Remember, though. All of this didn't dawn on the league and the owners in the past 24 hours. They've been planning for all of these contingencies -- including the possibility of the union dissolving and instigating a long, uncertain antitrust battle.

When is enough enough? A case can be made that today is the day, and a case can be made that it isn't.
Wednesday 2:25 p.m.
What about the one-and-done age limit rule? Yahoo! Sports reports, "Many keep asking about 'one-and-done' draft rule. It's on B-list of issues they'll get to once/if economic-system points are agreed on."
Wednesday 1:42 p.m.
The meetings started on time at 1 p.m. according to Ken Berger of CBSSports.com.
Wednesday 1:04 p.m.

SI.com reports: "I think there is a real possibility lockout ends today, as I've been convinced owners will give on some system issues in exchange for BRI."
Wednesday 12:31 p.m.
Bill Simmons of ESPN.com and Grantland reports the owners are split 16-13 on the 50/50 deal (with New Orleans being held by the league and essentially able to be used for whatever they want). Simmons says he is "99.9999" percent sure (after an update, so apparently that .0001 percent was off) that the teams who do not want the deal and want to cancel the season to get the strictest deal possible are Washington, Denver, Charlotte, Milwaukee, Indiana, Minnesota, Portland, Oklahoma City, Memphis, Sacramento, Philadelphia, Atlanta, and Utah.
That would leave Los Angeles, Boston, New York, Miami, Toronto, Dallas, New Jersey, Cleveland (in a change of heart, first reported by Ken Berger of CBSSports.com), Phoenix (same), Orlando, Chicago, Detroit, San Antonio, Houston, Golden State and the Clippers with New Orleans as the other presumed vote in favor of the deal. So essentially, if two teams flip and they use New Orleans as the other, the deal could get busted.
SBNation's Tom Ziller points out that the Maloofs would need to support Stern as he's likely to protect their ownership and wishes for relocation against an ownership group that voted against their move last year.
Our own Royce Young in OKC says regarding the Thunder: "From what I understand, OKC's willing to go with the flow, but ultimately, wants basketball back as soon as possible. The Thunder's terrified about this lockout doing long-term damage to the fanbase."
Wednesday 12 p.m.
David Stern reportedly has permission to move on the systemic concessions the union has requested in order to agree to a deal with 50/50 BRI split. The degree of movement will determine whether a deal is struck. We are not optimistic.
Head of the labor relations committee Spurs owner Peter Holt will join Adam Silver, David Stern, and the NBA's legal staff.