Posted by
Ben Golliver
,
Matt Moore
and
Royce Young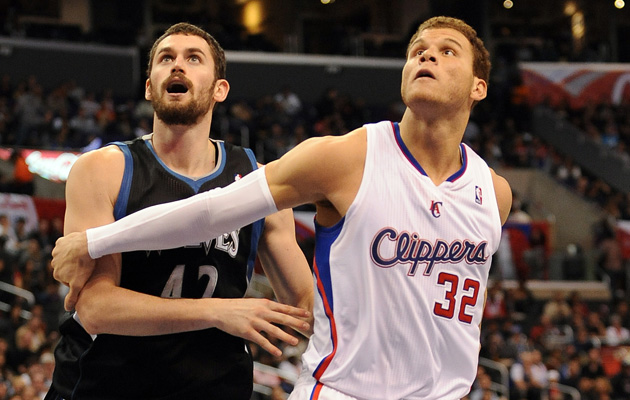 All eyes are on Love, Griffin and the rest of the West forwards again.
(Getty Images)
1. The Western forwards are the toughest decision. What's your pick there and what's the second toughest decision?

Matt Moore
:
Pau Gasol
's not worthy and doesn't have the historic success to validate a career achievement selection.
Paul Millsap
gets hosed because he doesn't have enough usage. It's Griffin, Love, and
LaMarcus Aldridge
. You simply can't exclude any of them. Second toughest I think is whether to include anyone from the
Hawks
or Sixers. Both teams use comprehensive, cohesive approach to both sides of the ball. Choosing one guy seems a disservice to the others.
Royce Young
: I think you have to take both LaMarcus Aldridge and
Kevin Love
. There's just no way around it. Pau Gasol and Paul Millsap are snubs, but that's just life. I'd say the second toughest decision is between
Tony Parker
,
Steve Nash
and
James Harden
. All three have terrific claims, but not all three can go.
Ben Golliver
: I disagree with the premise of the question and agree with you guys. It's clearly Griffin, Love and Aldridge. Griffin is the most questionable of the three and he's already in by default. Millsap likely get hosed but there's a process to this All-Star thing and he's working his way up the chain; Nowitzki definitely doesn't deserve it and he did the right thing by saying as much. I don't think this one is all that tough. I would probably cheat and try to sneak Pau Gasol in as a center, or play semantics and call Aldridge a center to get Gasol in as a forward. The spillover effect at the West center is probably the toughest. Pau and
Marc Gasol
both have a case,
Al Jefferson
probably thinks he has a case and
Tim Duncan
looms as the sentimental guy. Something has to give.
2. Let's say the reserves all have to actually be reserves, non-starters. What's your list?

Young
: In the East, can I just say the
76ers
bench? Because that's pretty much it. For the West,
Mo Williams
, James Harden,
Jamal Crawford
,
Jason Terry
,
Al Harrington
,
Derrick Favors
and Yao Ming (just kidding).

Moore
: West I'd go Mo Williams, James Harden,
Nicolas Batum
, Al Harrington, Derrick Favors,
Ian Mahinmi
,
O.J. Mayo
. East I'd go with
J.J. Redick
,
C.J. Watson
,
Lou Williams
,
Thaddeus Young
,
Brandon Bass
,
Ersan Ilyasova
, and Jodan Farmar.
Golliver
: The Eastern Conference doesn't have a full team of All-Star worthy starters this year, let alone reserves. You might as well just send
Andray Blatche
if we are going to play that game. In terms of the West, maybe just an all-perimeter line-up of Mo Williams, James Harden,
Andre Miller
, Jason Terry, Jamal Crawford, and
Jimmer Fredette
, just because this was kind of a dumb question. Al Harrington and Nicolas Batum would be in too.
3. Who's getting hosed the most Thursday night?

Golliver:
I'm worried it will be
Kyrie Irving
, due to the blind anti-rookie bias and the fact that Cleveland is just a touch out of the playoff picture in the East. His case statistically is stronger than any of the other snubs. Top-25 league-wide in PER as a teenager? That deserves a medal.
Moore
: Marc Gasol. Arguably the best center in the West and his star power isn't enough to warrant a selection.
Young
: I'm afraid it's going to be
Kyle Lowry
. He's playing on a decent Houston team and is really kind of having an MVP quality season, but it seems not many are noticing it. Plus, there are way too many good, bigger name point guards in the West.
4. Let's say Rondo sits out to get healthy. Who do you take between Kyrie Irving, Deron Williams, and Brandon Jennings?

Moore:
Deron Williams and Kyrie Irving. Williams' numbers stack up and I won't punish Williams for getting traded to the
Nets
who can't put together a team if it was 2kSports, and Irving is already a premier point guard with elite production numbers. Jennings hasn't been efficient long enough.

Young:
I go with Irving and Jennings. Deron Williams just doesn't get a pass for mailing in the first three weeks of the season. He's playing more like himself lately, but he wasn't good for a while. Jennings is a tad erratic, but has carried the
Bucks
near .500 while being without
Andrew Bogut
for a lot of the season. And Irving, well, he's just been fantastic, rookie or not.
Golliver:
Jennings has a shockingly compelling case given the season he had last year but I think it's Irving and then Williams. D-Will has probably taken the biggest step back in overall appeal of any 2011 All-Star since Los Angeles.
5. Who's going to be the worst All-Star selected this year, starter or reserve? Think Gerald Wallace's performance in 2010.


Young
: Joe Johnson. I'm always so bored when
Joe Johnson
gets picked, but it's inevitable.
Golliver
:
Roy Hibbert
, assuming he gets selected or added at a later date. He will only be remembered if he gets Mozgov'd or Perkins'd. After writing this I'm now actively hoping he winds up snubbed.
Moore
: Andre Iguodala makes everyone better. That's like, the opposite of what the All-Star game is about. Iggy's a worthy selection but not a great fit. Too selfless.