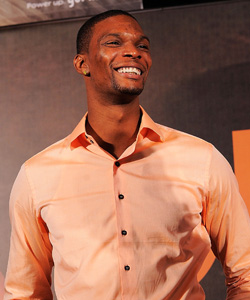 Heat Triad forward says the team expects negativity, heightened pressure.
Posted by Matt Moore
In the ongoing saga of the Heat v. Public Opinion, there have been salvos aplenty the last few days. LeBron's
GQ article
,
Dwyane Wade
's
charity stop
, and now,
Chris Bosh
's
interview with SI 's Chris Mannix
at his "Get Milk" campaign event. Mannix spoke with Bosh about a number of topics, including who's going to take the last shot for the Heat (whoever's hot that night), how much he considered Cleveland (he didn't), and, the big sound byte, how he feels about all the hate being heaped upon him and the other two members of the Miami Triad. From Mannix's HTML to your eyes:
"It's a healthy hate," he said. "When the Lakers came to town, I hated the Lakers. It's what you need as motivation to beat these guys. We know we're going to get a team's best every single night. We know we're going to get the crowds best every single night. We have a big 'X' on our back. People are saying our team is not good for basketball. We're going to hear everything. It's OK. It's going to happen. We just have to win and keep on moving."
A healthy hate, huh? Well, that's certainly making lemon-scented cleaner out of rancid, poisoned lemons. It's also a continuing part of the orchestrated effort by the Heat in anti-hate maneuvering. The same kind of lines are being injected into all three of their statements. Things like "no one is 100% LeBron/DWade/Bosh" and "the hate should be fun." It's nothing but big smiles and happy words about enjoying all the villainy they've been accused of.
The real question? Do any of these guys have a vengeful bone in their body? Bosh has never really come across as a killer, more of the "friendly next door neighbor who can pull down stuff from the top shelf." James has his own long history of doubts regarding his killer instinct (despite his game being best-fit for all-around dynamics and not the dagger in the heart). Wade is really the question mark. He has a history of clutch theatrics, and definitely plays with a chip on his shoulder. But he doesn't own a move like Kobe's jaw-jut or Jordan's sneer. Those are theatrics, of course, but they belie a bigger theme of righteous (or unrighteous) vengeance.
The Triad does seem to be slowly embracing this idea, though, that they will have to fuel themselves from the negative energy thrown at them. They have to learn from their past failures and rally around a single cause: shutting the mouths of the millions of people who have doubted and cast aspersions towards them. Of course, contrary to what Wade said after the free agency coup was completed, the hard part isn't over. Winning the games. That's the hard part, and it hasn't even begun.
Here's more of Mannix with Bosh: