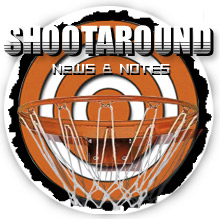 Posted by Royce Young
Bill Plaschke of the LA Times on Andrew Bynum's latest injury: "The last time a Lakers big man did something so medically dumb, it was Shaquille O'Neal refusing to fix his toe until just before the 2002-03 training camp, claiming: "I got hurt on company time, so I'll heal on company time." Two underachieving seasons later, he was on Miami time, traded because owner

Jerry Buss

decided he wasn't worth the trouble. Interestingly, the guaranteed part of Bynum's contract expires in two seasons, at which point Buss will have to make the same sort of decision. At this rate, maybe he shouldn't even wait that long. How can Andrew Bynum be the Lakers' future if you can't count on him today?"
Chris Mannix of SI on the Warriors move yesterday: "It's not like Lacob had many alternatives, either. Jeff Van Gundy isn't leaving the ABC booth for the Warriors and it's a little late in the game to be dialing up Lawrence Frank and Sam Mitchell too. Plus Smart, who Lacob told Bay Area reporters will receive a multi-year contract, comes cheap. If it doesn't work out this year the team can always cut ties after the season. But with Nelson gone, the Warriors can finally look towards the future without being encompassed by the shadow of the past. A new era has begun in Golden State and let's face it, it can't be much worse than the last."
Tim Kawakami on the end of the Don Nelson era: "Nelson just couldn't win anymore. And it became clear that he stopped caring, too. That is how Nelson morphed himself into the Cohan Culture, with spot moments of success amid long periods of massive distress and political intrigue. I don't know how the Lacob era will turn out. Maybe well, maybe more seasons of failure. But Lacob knew that had to start by moving Don Nelson aside -- and all his eccentricities and feuds and controversies along with him. Nelson wasn't the worst thing about the Warriors. But he was, in the end, the most visible and corrosive influence on the players and fans. By cleaning him out, Lacob creates a fresher Warriors climate and a brand new era."