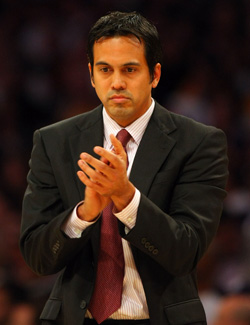 Erik Spoelstra has a better than decent shot at being named All-Star coach for the East.
Posted by Matt Moore
If things were to continue on the pace they're going, with the Boston
Celtics
sliding due to injury and the
Heat
rolling through weak opponents, Erik Spoelstra
could wind up as coach of the Eastern Conference team
at All-Star Weekend. It would be a tremendous honor for the young coach, and be a reflection that he's done, particularly since there was a tremendous amount of fire on him with rumors that he was close to being canned.
It would also be a really awkward situation.
Also on that squad will be Boston Celtics and New York
Knicks
and Orlando
Magic
players. And while every year there's one team better represented than the rest, with three possible representatives on one team, there could be some ugliness about having their coach on the roster as well. Granted, most of the time these guys put aside their differences and just hang out as professionals, but Spoelstra's a young coach with three stars who pretty much do what they want on his roster, and in the All-Star game (should Bosh wind up making the cut). It's hard to see
Kevin Garnett
being too respectful of that development, or
Paul Pierce
, or
Dwight Howard
, all of whom have expressed frustration with the amount of press the Heat have gotten.
It should also be mentioned that between now and then, the Heat play the
Thunder
, the
Bulls
, the Magic, and the Celtics, which is a pretty steep hill to climb on top of all the other games in order to close the half-game gap the Celtics currently enjoy. The Celtics have less incentive to push themselves and more incentive to coast, so this is still very much possible, but it's far from a lock.
Either way, it would be a great turnaround for a coach on the hot seat for much of the season.