The latest round of votes for the NBA All-Star game have been announced, and Los Angeles Lakers guard Kobe Bryant and Orlando Magic center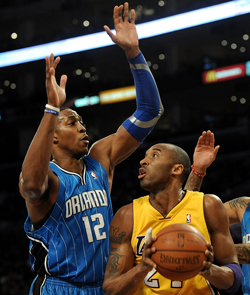 Dwight Howard lead the Western and Eastern Conferences, respectively. Posted by Ben Golliver.
The NBA All-Star game fan voting process is one of the world's most elaborate popularity contests, and some familiar names top the latest round of this year's results, released today by the NBA.
Western Conference
In the Western Conference, Los Angeles Lakers guard Kobe Bryant leads the way, and he is the top overall vote-getter, clocking in at more than 1.1 million. The other current starters for the West include Oklahoma City
Thunder
forward
Kevin Durant
, New Orleans
Hornets
guard
Chris Paul
, Denver
Nuggets
forward
Carmelo Anthony
and Houston
Rockets
center Yao Ming. Yao, of course, has played just five games so far this season due to injuries, and recently
suffered a season-ending stress fracture in his ankle
. Lakers center
Andrew Bynum
, who has also missed extensive time due to injuries this year, is in second place behind Yao. Yes, this makes no sense.
Did the fans get it right?
Bryant and Durant are locks. You can quibble between Paul or Utah
Jazz
point guard
Deron Williams
, but Paul is a solid choice. MVP candidate Dirk Nowitzi is the biggest snub here, as he should certainly be in above Anthony. As for the center position, the
ballot for that position
is a mess and the West should probably just play four-on-five.
Eastern Conference
In the Eastern Conference, there's no question about which center is most deserving (and popular). Indeed, Orlando Magic center
Dwight Howard
leads the East in overall votes, at just under one million. He's joined by Miami
Heat
forward
LeBron James
, Boston
Celtics
forward
Kevin Garnett
, Miami Heat guard
Dwyane Wade
and Boston Celtics guard
Rajon Rondo
.
Did the fans get it right?
Howard, James and Wade are all locks. There's a strong argument that Chicago
Bulls
point guard
Derrick Rose
should be in ahead of Rondo, but I like Rondo here as well. As for Garnett, he probably deserves to get bumped so that New York
Knicks
power forward and MVP candidate
Amar'e Stoudemire
fills out the starting five. That's not as bad an oversight as Anthony over Nowitzki, but a little team diversity in the starting lineup never hurt anyone. Here's the full list of votes for the starters courtesy of an NBA press release.
Bryant, The Finals MVP last season, is the overall leader with 1,153,694 votes.In the Western Conference, Bryant, a three-time All-Star MVP, who garnered the honor in 2002, 2007 and 2009, is followed at guard by the New Orleans Hornets' Chris Paul (585,690). Kevin Durant, a member of last year's All-NBA First Team, paces forwards in the West (735,521), with the Nuggets' Carmelo Anthony (602,516) second. The Houston Rockets' Yao Ming (637,527) is the leading vote-getter among Western Conference centers, with the Lakers' Andrew Bynum (376,283) placing second.
Howard, the leading vote-getter in the Eastern Conference with 988,572 votes, paces centers in the East, followed by the Boston Celtics' Shaquille O'Neal (410,663). James, a two-time All-Star MVP (2006, 2008), leads all Eastern Conference forwards with 969,459 votes, followed by the Celtics' Kevin Garnett (712,555), MVP of the 2003 All-Star Game. The Heat's Dwyane Wade paces all guards with 938,402 votes; the Celtics' Rajon Rondo is second among guards in the East (777,310).
The 2011 NBA All-Star game will be played on February 20 in Los Angeles, California.