Posted by Ben Golliver.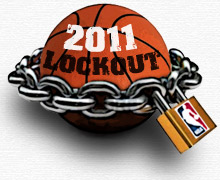 NBA labor talks are about to get an injection of Uncle Sam.
National Basketball Players Association executive director Billy Hunter told
WFAN radio in New York
on Wednesday that the NBA and its players union will continue talks with the help of a federal mediator next week.
"We've agreed as of today that we're going to meet with a federal mediator on Monday," Hunter said.
Ken Berger of CBSSports.com
reports
that a "league source confirms the two sides are working on scheduling a meeting for early next week." Berger also reports further details of the mediation process
here
.
Sports law analyst Gabe Feldman
said Wednesday
that the presence of a mediator could reflect "a sense of urgency" and that it represents a "step in the right direction" for negotiations that had appeared to be at a standstill.
Hunter also said during the interview that he expects the two sides to reach a deal in time to play the league's traditional slate of games on Christmas and that the NBA and its players are "within the zone to make a deal" when it comes to the splitting of revenues, with the players currently offering to take 53 percent of the league's Basketball-Related Income and the owners offering a 47 percent cut to the players. System issues, Hunter maintained, continue to be the holdup. Those issues include the structure of the luxury tax system and the length of contracts.
Prior to Hunter's statements, no official talks between the two sides had been scheduled following a session in New York on Monday that failed to produce an agreement and resulted in the cancellation of the first two weeks of the NBA season.