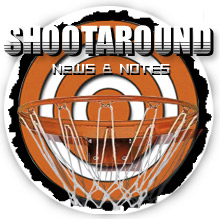 J.O.'s knee not quite right, Kevin Garnett not quite wrong in the head, and a murder suspect busted in Charlotte, all in today's Shootaround.Posted by Matt Moore
Oh, those sneaky Celtics. It seems they snuck a Jermaine O'Neal surgery under our very noses . J.O. certainly has seemed a step behind in terms of explosiveness and strength in the paint. But to be honest, we just chalked it up to age. Apparently there was an actual reason, which means he could improve, which means the Celtics could get stronger, which is just terrifying.
A Minnesotan discussion of Kevin Garnett's behavior, in which it's argued he's the most genuine athlete alive . I'm not buying it. Garnett isn't driven to these things out of passion, they're calculated maneuvers. That's why he doesn't end up in fights, instead walking away with his hands up after starting something. Intense, sure, but just as deliberate as the outraged opera star on stage.
A murder suspect was captured in the VIP section of the Bobcats game against Orlando Saturday. Seriously. Pretty scary because there were so many people around in the public event. Pretty funny because of all the jokes you can make of "Well, if you want to be hidden from people..."
Brandon Jennings with some disturbing comments about the locker room chemistry in Milwaukee that's helped lead to the 2-5 start they're off to. Jennings is still learning how to be a vocal leader, but he needs to take the step and say to his teammates what he's telling the press.