Posted by Ben Golliver.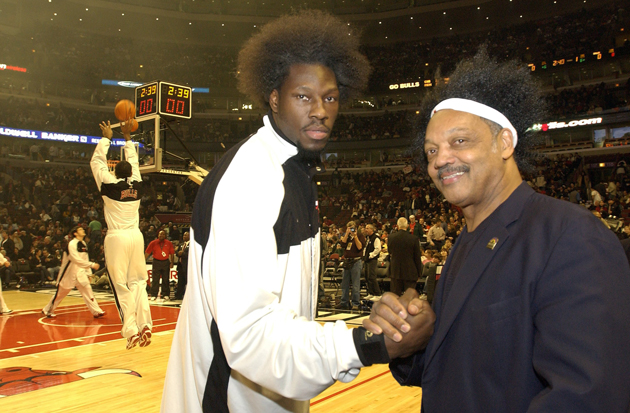 There is no better indication that a situation has reached a crisis than when reporters start phoning the Reverend Jesse Jackson.
Love him or hate him, Jackson has a firmly established reputation as a go-to voice when it comes to natural disasters, police brutality and, now, the NBA lockout.
The Washington Post contacted Jackson
to get his response to what has been arguably the ugliest week the league has seen in years. NBA commissioner David Stern was called a "modern plantation overseer" by Emmy-winning television commentator Bryant Gumbel and the league's labor negotiations broke down on Thursday amidst direct, nationally circulated charges of lying and greed by the players against the owners.
Jackson's stance was clear: the league is reaching a point of no return and that Gumbel and Stern needed to mend their fences.
"I hope it doesn't degenerate into names and language that's hard to take back once it's started," Jackson said from his Chicago office late Thursday afternoon. "If it goes down this road, that could amount to irreparable damage. If it goes away from labor negotiations, things could become irretrievable."


"Bryant certainly exposed a subtext of tension," Jackson said. "He pulled the cover off a very sensitive issue: how we handle the race dimension of it. And I hope we would not have a my-way-or-the-highway attitude about this."

"I think [Gumbel and Stern] should have a conversation," he said. "Bryant is a very level-headed person and very good journalist. I don't know what pushed him to that level. But I do know we need not massage that pain; we need to resolve it."
With the federal mediation process failing so spectacularly, it's unclear who will emerge to effect what will need to be a Great Compromise between the owners and players. Putting the acrimony from last week into the rearview will not be an easy process, and it will become even more difficult if and when Stern needs to announce further cancellations of regular season games, something that could come at any time.
The hits to the players' pocketbooks, in the form of lost game checks, are coming right around the corner. Nobody likes to have money taken out of his pocket. How will the players as a whole react? And, then, how will that reaction evolve if the owners continue to refuse to bend in the negotiations?
It's quite possible that Jackson is correct in stating that the negativity is just beginning and major damage could be dealt over the next few weeks and months.