NBA commissioner David Stern has added Minnesota Timberwolves power forward Kevin Love to the 2011 NBA All-Star team as an injury replacement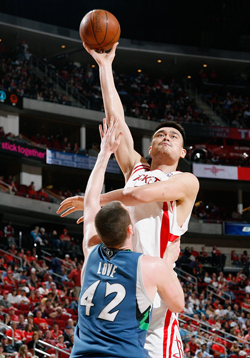 for Yao Ming. Posted by Ben Golliver.
Silly NBA fans: you voted Houston
Rockets
center Yao Ming into the Western Conference's starting lineup for the 2011 NBA All-Star game, even though he has only appeared in five games this season and is currently sidelined with a season-ending injury.
Thank goodness for NBA commissioner David Stern who stepped in to make things on Friday right by adding Minnesota Timberwolves power forward Kevin Love to the team, in place of Yao.
Minnesota Timberwolves forward Kevin Love has been named by NBA Commissioner David Stern to replace injured West All-Star center Yao Ming (stress fracture, left ankle) of the Houston Rockets in the 2011 NBA All-Star Game in Los Angeles. This is Love's first All-Star Game selection.
San Antonio coach Gregg Popovich, who earned the right to coach the West squad by virtue of the Spurs clinching the best record in the conference through games played Feb. 6, will determine who replaces Yao in the starting lineup.
As we noted yesterday
, Love was one of the most high-profile snubs left off the
original All-Star reserve lists
. And, as we noted this morning, Love was pretty
disappointed that he had been left off the list
.
Phoenix
Suns
guard
Steve Nash
was reportedly one of the favorites to replace Yao, and Portland
Trail Blazers
power forward
LaMarcus Aldridge
, Golden State
Warriors
guard
Monta Ellis
and Memphis
Grizzlies
power forward
Zach Randolph
were also said to have been finalists.
The Timberwolves actively campaigned on Love's behalf,
releasing a viral campaign video
with a cologne theme, entitled "Numb#rs."
Love, a third-year forward out of UCLA, is averaging 21.4 points and an NBA-best 15.5 rebounds per game.
The 2011 NBA All-Star game will be played at the Staples Center in Los Angeles, California, on Feb. 20.