Posted by Ben Golliver.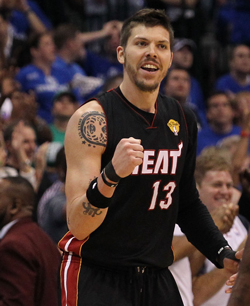 Will it be one-and-done for Miami
Heat
forward
Mike Miller
?
Miller represented the final piece of the Heat's free agent puzzle bonanza during the summer of 2010, hopping aboard after guard
Dwyane Wade
re-signed and forwards
LeBron James
and Chris Both took their talents to South Beach.
Targeted as a floor-spacing shooter and all-around team guy, Miller dealt with injuries throughout the 2010-2011 season and never had the impact his 5-year, $30 million contract demanded.
This week, the Sun-Sentinel reports
that Miller has put his Miami mansion on the market, listing it for $9 million, and is openly discussing the possibility that he might be waived by the Heat using the amnesty clause that is expected to be a part of the new collective bargaining agreement.
The veteran forward said Wednesday he is just taking stock of the current situation in both his career and the NBA. And that means taking stock of his 9,968-square-foot estate with the $180,000 in annual property taxes.

"It's a couple of things," Miller said. "Just preparing myself; never know what can happen."

"If anything happens with the amnesty, this is just going to be a business decision and I can respect that," he said. "Teams will only get one opportunity to use it. I can respect that part of it."
The Heat face two questions with regard to Miller and the amnesty clause. Do they amnesty him? And, if so, when? Remember, the current amnesty clause proposal would let a team use it at any apoint during the next two seasons and potentially for the duration of any current contracts. In other words, the decision wouldn't need to be made immediately.
Besides Wade, James and Bosh, the Heat have just three players under contract that can meaningfully contribute: Miller, forward
Udonis Haslem
and center
Joel Anthony
. Point guard
Mario Chalmers
is a restricted free agent and could return to the team as well. The Heat will also have a mid-level exception to play with, and they figure to use that to beef up their frontcourt depth. So, at most, that's a core of eight players (including the MLE target) plus a whole lot of youngsters and minimum salary players to fill out the roster. The Heat are stretched thin with Miller; without him, they would be stretched
really
thin.
While Miller didn't live up to his contract last year, finances alone aren't the major concern in any amnesty decision, as using it would require Heat owner Micky Arison to pay Miller the balance of his salary and settle for zero on-court production in return. Waiving Miller now would be all about reducing the payroll to free up salary cap flexibility, but it's not totally clear yet how helpful shedding his salary will be. If the Heat do retain Chalmers and use their mid-level exception, they will be fairly close to the luxury tax line, and probably above it, even if they waive Miller. They'll be paying out big dollars with or without him, an eventuality that Arison seems to have no problem with.
There is talk, however, that the value of a mid-level exception would be significantly smaller for luxury tax paying teams than for non tax-payers. If this winds up being true, keeping Miller and re-signing Chalmers could put Miami in the luxury tax and, theoretically, could limit their potential targets in free agency by reducing the total dollar amount Miami is able to offer with their mid-level. In other words, if Miller is cast out immediately it's likely to happen so that Miami can bring in a full mid-level free agent who can play meaningful minutes and wouldn't settle for the smaller mid-level available to luxury tax payers. (Note: The specific mechanics for what would be available to Miami, and when, will not be set in stone until a new CBA is reached.)
Let's not lose sight of the fact that it's a virtual guarantee that Miller has a better season in 2011-2012 than he did in 2010-2011. He played a career-low in games last year and averaged career-lows in minutes, points and assists. He's still just 31; he's primed for a bounceback campaign in one form or another. Even if he underperforms his past peak production, he's only on the books for $5.4 million, so it will be very difficult for him to be outrageously overpaid unless he can't physically take the court. On paper, he's still the same versatile, intelligent perimeter threat that can serve as an outlet for Wade and James. If Miller goes, Miami would need to address the hole he leaves and they will need to pay to do so.
An attractive option, then, would be to simply punt on the Miller decision. While Miller is on the books officially for $24 million over four more years, Miami essentially has a team option for $5.4 million thanks to the amnesty clause. Waiting until next season to execise the amnesty would give Miami another year to show why he was a top Heat target in 2010 and to see if the developed chemistry between the Big 3 and their supporting pieces that was often on display during playoff series victories over the Boston
Celtics
and Chicago
Bulls
can be realized in the sequel season. If injury does strike again, Miami could always amnesty Miller prior to the 2012-2013 season and go mid-level exception hunting at that time.
The least risky play for Miami, then, is to give Miller a swan song, bring back Chalmers (unless his price is really stepp), and get the best big man they can find with the mid-level, regardless of whether they are able to use a normal mid-level or a reduced luxury tax payer mid-level. If the season does wind up starting sooner rather than later, maintaining continuity from last season and keeping their options open going forward would seem to be the prudent play during a crunched free agency period and a shortened season.
Miller is smart to list his house for sale so that he has a jumpstart if things go south for him in South Beach. But there's still a decent chance he's back for redemption with the Heat whenever the lockout ends.