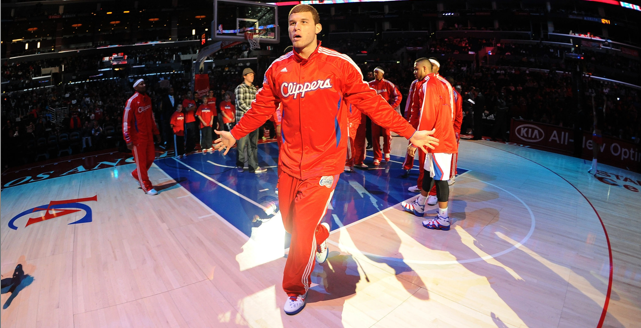 By Matt Moore
Being funny is better than being valorous in today's society. True story. Okay, to be honest, being smart, good at sports, famous, or good looking is better than being valorous. Luckily,
Blake Griffin
, by all accounts, is a little bit of both. And he's handling the first part with a summer internship.
Brandon Jennings
can have his internship at Under Armour. The Rookie of the Year is spending his summer with the folks at
Funny or Die.
From the AP:
This week, the Los Angeles Clippers All-Star forward is interning at Funny Or Die, the comedy website co-founded by Ferrell and Adam McKay. Griffin arrived at the site's LA offices Tuesday to begin three days of work in video production.He will help write, shoot, edit and act in several videos for the site.

Griffin said he's a big comedy fan and an avid viewer of Funny Or Die. As an intern, he hopes to learn more about film production."

Just to get an inside look at how things are run here is exciting to me," Griffin said by phone Tuesday. "I don't know what interns at Funny Or Die are like, but I'm about to find out, I guess."
via
Blake Griffin begins internship at Funny Or Die - NBA - CBSSports.com Basketball
.
My first thought is to wonder if
Baron Davis
had an influence here during his time with Griffin before his trade to Cleveland. Davis is heavily involved in entertainment and film in particular. This is obviously the impact of playing in Los Angeles as well. These kinds of opportunties aren't afforded to young players in other cities, though
Kevin Durant
's Warner Bros. deal shows it's not a market issue. Griffin is particularly a fan of comedy, though, and he fits well. He's got a good personality and shows well on camera.
Maybe the more interesting bit of the piece is this:
Griffin counts "Old School," "Wedding Crashers" and "Anchorman: The Legend of Ron Burgundy" among his favorite movies. On Funny Or Die, he likes Zach Galifianakis' mock interview series "Between Two Ferns."

"I'll go see a bad comedy over a good action movie any day," Griffin said.
So no big surprise there. That's pretty much every major fratcom of the past ten years, and with Will Ferrell involved with Funny or Die and a star in all those movies, that makes sense. In that spirit, here are Griffin's dunks put to
Frat Pack films
.
The Mozgov
= "
Wedding Crashers
"
The Amar'e Nod
= "Anchorman" ("I plain, straight hate you. But damn it, I respect you.")
The Dunk Contest
= "
Zoolander
"
The
Near-Stuckey
= "
Old School
"
(HT:
Dime
)