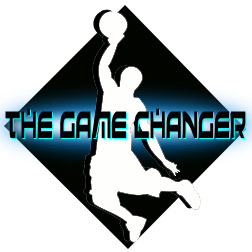 Deng does work with his mid-range, the Raptors do no work on the glass in the fourth, and Gordon does demolition work on the rim. All that and more in this edition of the Game Changer .
Posted by Matt Moore
Each game is made up of elements which help formulate the outcome. Monday through Friday, we'll bring you the elements from the night before's games in our own specialized version of the game recaps. It's not everything that happened, but it's an insight into what lead to the results you'll see in the box scores. This is
the Game Changer
.
THE BIG ONE: DENG DOIN' WORK
In general,
Nicolas Batum
is a good defensive player. So is
Wesley Matthews
. Unfortunately, last night, they were completely overwhelmed by the rarest of finds: a fully functional
Luol Deng
. Not hampered by injury, a poor offensive system, or mental distractions, last night is a perfect example of what can happen when Deng is feeling it. Particularly, Deng's game is focused on the mid-range J. It's a highly inefficient shot, which is why he so rarely has nights like this. But when it's falling? Good night, nurse. Deng dropped 40 on the
Bulls
in a game that wasn't close right from the start. The Blazers just looked overwhelmed defensively. They couldn't protect the rim, and nothing was going to work on Deng. He kept nailing pull-up jumpers off the dribble, forcing them to close. Then he pump faked and got to the line. Take a look at his shot chart from
CBSSports.com's Game Tracker
.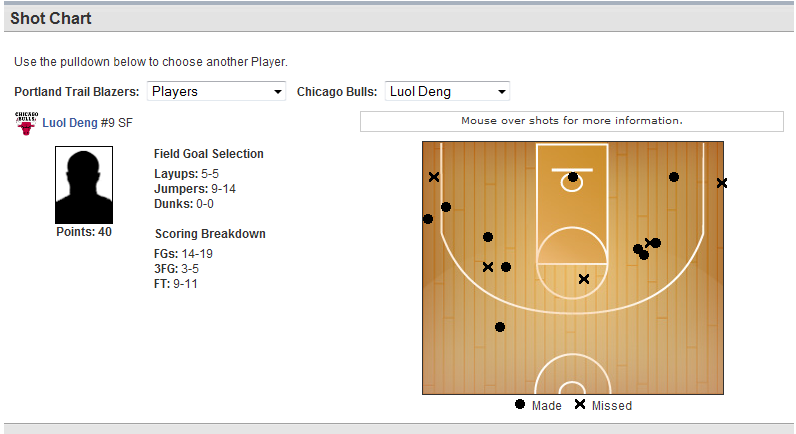 That's a pretty good night from the field. When you're hot, you're hot.
Other than that? Not much to report. The Bulls' defense wasn't really all that stout, allowing a 110.1 efficiency for Portland, despite the Blazers shooting 41% from the field and 0.00% from the arc. 0-14 from the stripe for the Blazers. It was that kind of night. But 41 free throws helped them avoid getting wiped off the map while still being down too much to climb back from. The Blazers just looked a step behind on all their rotations, and the Bulls' offense was functioning at an extremely high level.
Derrick Rose
finishe with 16, 13, and 5, with 6 turnovers, and made a few absolutely gorgeous cross-court skip passes to Deng for open threes behind the baseline off-ball screen. Stuff you did not see out of the Bulls last year. Thibs has the offense going well, and with Deng hitting the jumper, that was all she wrote.
GO-GO-GADGET LINES OF THE NIGHT:
Luol Deng: 40 points on 14-19 shooting, 4 rebounds, 2 assists, 1 steal, +19
Tyreke Evans
: 23 points on 9-16 shooting, 7 rebound, 5 assists, 2 steals, 1 block
Gary Neal
: 16 points, 4-8 from 3-point land, 6 rebounds, 2 assists
Eric Gordon
: 23 points, 4 rebounds, 11 assists, 2 steals, 2 turnovers, only
Clippers
starter with postiive plus/minus
DON'T MISS:
Ken Berger posts on
how the league needs to take note of what happened
in the NHL Lockout. Check out
Ken's Post-Ups with news from around the league
on several subjects, including
Derrick Favors
, Nicolas Batum, and how the league is approaching the
Knicks
investigation. Be sure to check out
the horror, the horror
of the
Mike Conley
extension, and
Royce Young covers what we learned in week one
.
RAPTORS BOARD OUT OF THEIR MINDS:
The Raptors held a 34-25 advantage on the glass headed into last night's fourth quarter against the
Kings
. In related news, they held an eight point advantage. In the fourth quarter alone, they lost the rebounding battle by double (14-7, advantage Kings), and were outscored by 11. That was your ballgame.
Andrea Bargnani
was, for some weird reason, matched up with the bulkier, meaner
DeMarcus Cousins
, while
Reggie Evans
was forced to try and hold off the wiry, quicker
Carl Landry
. It made absolutely no sense and the results bore out. The Raptors had this game on lockdown and just let the Kings take it away from them. This despite Evans finishing with 19 rebounds, 10 offensive. That would make them Never Be Closing, I suppose.
VIDEO-A-GO-GO
In case you missed it last night:
BENCH MOBBED:
The Clippers bench was outscored 32-7 last night in a nine point loss. For those of you keeping track, that means that the starters managed to outscore San Antonio's, but they couldn't handle Gary Neal and
James Anderson
. It at once says that the Clippers are far too woefully thin to be considered anything close to a playoff team this year, and that the
Spurs
have once again added young, versatile pieces which will help them this season. One game does not a season make, but the success the Spurs are having is a product of the system, and solid player acquisition. The smart get smarter, the Clips get Clipper.
AND FINALLY:
Loud noises!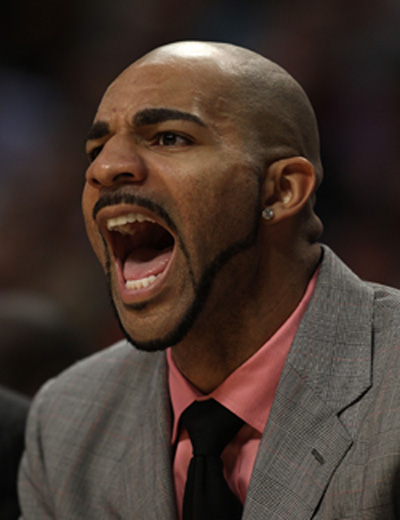 Follow F&R on Twitter at @CBSSportsNBA and check out our RSS feed . This has been your daily edition of the Game Changer .