Posted by Royce Young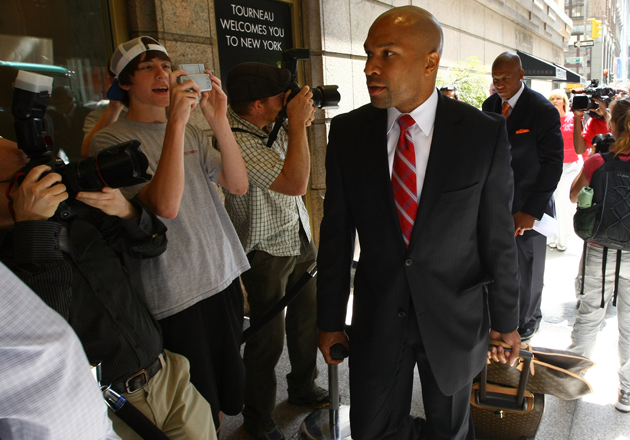 Derek Fisher
made $3.7 million as the
Lakers
' starting point guard last season. Started all 82 games. Had another solid season.
But maybe the hardest work he's done this year has come off the court. And he's not even getting paid for it. Maybe that was common knowledge, but it's new to me.
As union president, Fisher doesn't get paid anything and get this: He doesn't even have an expense budget.
Via the O.C. Register
:
He is not getting paid anything for this. He digs into his own pocket even for meals while holed up in New York for bargaining meetings – sometimes packing for what was supposed to be a couple days and then having to agree to stay for a week or a week and a half. He pays for personal assistants to fly and stay and help him in New York, including a trainer to keep him on track physically to continue his old job as a basketball player at some point.

He tries to justify the expenses to his wife, in addition to his glaring absence at home at the usual offseason time when he gets to reconnect with his kids. Staying committed to serve his fellow players at this critical time, Fisher is left to steal away from New York and back to Los Angeles just to see his kid's soccer game and then jet back on a red-eye flight.
If you don't respect the hell out of Derek Fisher already, I'm sure you do now. Nobody wants a deal as much as him. He doesn't just have a salary at stake in this, but I'm sure he's ready to be done with this crap. Ready to stop playing unpaid intern as he spends late nights in a New York hotel arguing with lawyers and stubborn owners. It used to be a nightmare, but I bet he'd give anything to be guarding
Derrick Rose
or
Russell Westbrook
right now.
Billy Hunter gets paid. David Stern gets paid. All the lawyers, economists -- they're getting paid. But Fisher has to just serve his duty while picking up his own room service tab.
It's not surprising. We're talking about a guy that spent all day holding the hand of his child during cancer treatment and then returned to a playoff game in the third quarter. The guy is committed. He does what he thinks is right. The NBPA is in great hands.
Fisher might not have made any money doing this -- and he won't with a good deal because the players are giving back money, mind you -- but he's earned plenty in respect.