The Orlando Magic, Phoenix Suns and Washington Wizards engaged in a blockbuster trade on Saturday involving Vince Carter, Marcin Gortat, Mickael Pietrus, picks, cash, Hedo Turkoglu, Jason Richardson, Gilbert Arenas and Rashard Lewis. Here's what various NBA experts have to say about it. Posted by Ben Golliver.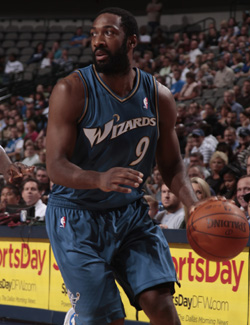 Any time a big trade goes down, the reaction comes in fast and furious on Twitter and the rest of the blogosphere. Here's what various NBA experts, players and writers are saying about
Saturday's trades
between the Phoenix Suns, Orlando Magic and Washington Wizards.
Ken Berger, CBSSports.com
: "It is a swing-for-the-fences for Orlando, which came under immense pressure to make a big trade while losing five of its last six games and taking an obvious back seat to Boston and Miami in the East. Turkoglu, who struggled in stints with Toronto and Phoenix, returns to Orlando -- where he was a key piece in Orlando's run to the 2009 NBA Finals. Arenas is the bigger name, but the key to the deal could be Richardson, a perimeter sniper who fits the Magic's style and gives them a clutch scorer and big-time shooter to further space the floor for
Dwight Howard
."
Matt Moore, CBSSports.com
: "Do not underestimate the value of getting Richardson here. Forget Hedo."
Adrian Wojnarowski, Yahoo! Sports
: "The Magic are desperate to please Dwight Howard and keep him out of free agency in two years. Will this be enough? Why wouldn't Orlando try out this new cast, and wait on adding Agent Zero? That Lewis-Arenas deal will always be there for them."
Jason Richardson
: "It's been a great 2 1/2 yrs Suns fans! My family and I enjoyed out time around such a great organization and fans. I'm excited about opportunity to play in Orlando! Thanks for all the love and support you guys showed me. God Bless!"
Steve Nash
, Phoenix Suns : "Everyone wish @Jason Richardson the best in Orlando. Great player and great teammate! He will be missed. Damn."
Jared Dudley
, Phoenix Suns : "Man I'm goin to miss my boy @jrich23 .. Great teammate, good luck in Orlando boy do work."
Michael Lee, Washington Post
: "This is not a basketball move, folks. This is business. The #Wizards' record past 53 games with Gilbert Arenas is 15-38."
David Aldridge, NBA.com
: "The deal would rid the Wizards of one of their biggest public relations headaches in years. While Arenas helped Washington make the playoffs for the first time in a decade and became an All-Star playing alongside
Caron Butler
and
Antawn Jamison
, his infamous suspension for bringing guns into the Verizon Center locker room last December as part of a prank and/or confrontation with then-teammate Javaris Crittenton cast a shadow over the franchise. Arenas was suspended by Commissioner David Stern for the final 50 games of last season and served time in a halfway house in the D.C. suburbs after pleading guilty to one felony count of carrying a pistol without a license."
Chad Ford, ESPN.com
: "I'm not a big fan of that deal for Orlando. Rarely pays to panic in December. Better deal for Phoenix in the future w/ pick & Gortat. This one feels more of a wash. Arenas if healthy helps, but Magic now pretty weak up front. After Howard & Bass, there isn't much there. Magic didn't want to re-sign Turkoglu in 09. He was overpaid by
Raptors
. Underperforms in Tor & Phx & now fans excited to have him back?"
Bill Simmons, ESPN.com
: "1. Total panic trade by Orl but their cap was kaput anyway. As a C's fan I'm slightly more scared of them now. JR > VC + Hedo thrived there. 2. Hedo-Barbosa deal was always idiotic for Phx. Confirmed by Phx being forced to dump JRich to dump Hedo's contract 5 mths later. Savvy! 3. Phx comes within a hair of making the '10 Finals, dumps JRich-LB-Amare-Amundson...now they're way worse off + cap-wise no better. Savvy!"
Vincent Goodwill, Detroit News
: "A lot of guys need the rock in Orlando. Hedo loves, Gil needs it and So does Dwight...what about Jameer too? This will be interesting. It will be interesting, whether you think it's a hot mess, I have no qualms with a team and ownership going all-in to win."
Evan Dunlap, Orlando Pinstriped Post
: "Richardson, a ten-year veteran swingman, is scoring 19.3 points in 31.8 minutes per game this season and connecting on 41.9 percent of his three-point tries. He strikes me as the most significant player in this trade from Orlando's perspective, as his ability to knock down open three-pointers and elevate for jump shots off the dribble should boost its weak offense. His contract expires after this season.
The bigger draw, from a narrative perspective, is Turkoglu's return to Orlando. The Magic acquired Carter following their 2009 NBA Finals run ostensibly to upgrade Turkoglu's spot on that team, with Turkoglu departing in free agency a few weeks later. When viewed this way, the Magic had a second chance to choose between Carter and Turkoglu, and this time they sided with Turkoglu. The combo forward with point guard skills has struggled since leaving the Magic; perhaps a return to Stan Van Gundy's offense, which helped make him the league's Most Improved Player in the 2007/08 season, will fix what ails him. As my SB Nation colleague Seth Pollack writes, Turkoglu has frustrated the Suns in myriad ways this year."
Chris Vernon, Fox Sports Memphis
: "Everyone has noticed how bad Rashard Lewis has been since he got caught with 'performance enhancement', right? goes on in NBA too."
Scott, Waiting For Next Year
: "Orlando is the new Cleveland; adding big contracts, veteran pieces in attempt to keep Dwight Howard happy."
Seth Pollack, SB Nation Arizona
: "At this point, losing Turkoglu probably wouldn't upset too many people in the locker room, as he's not been here that long. Swapping Richardson for Carter, however, could create a potential chemistry crisis that might be the final straw for Steve Nash, who's repeatedly expressed his frustration at the lack of stability on the team over the past several years."
Mike Prada, Bullets Forever
: "There will be lots of time to reflect on the end of the Arenas era, and in fact, we are planning a day-long tribute to Arenas sometime early next week. At this point, though, I'm just sad. I wish we could have receive more than Lewis back, but we don't really know just how much discontent Arenas was showing behind the scenes. It's possible that he was prepared to leave anyway and this was the only thing Ernie Grunfeld could get for him. Orlando isn't going to be this desperate again this year, so maybe the trade possibility would have passed by. Still, it's a disappointing return on the surface for someone who gave us so many memories.
Kyle Weidie, Truth About It
: "Trade or whatever, Ernie Grunfeld's time in Washington has gotten rather stale. 7 years is a long, good run as a GM/team pres. #MoveOn.org"
Art Garcia, NBA.com
: "Gotta admire Otis for doing something in Dec rather than Feb. Two extra months to make it work."
Ethan Skolnick, Palm Beach Post
: "Offensively, on the perimeter, the Magic will be more dynamic. Lewis was in a funk, and Carter — now just an erratic jump-shooter without his old spring — was never a good fit. The Magic moved the ball better without him, as was evident when he missed the last meeting with the
Heat
. Arenas is a volume shooter, but at least he's shown this season that he can still create his own shot. Richardson is a tougher player than Lewis and just as good from deep. And if anyone can salvage Turkoglu, it's Stan Van Gundy — Hedo hasn't been motivated or effective since he left.
Adding Arenas, Jason Richardson and Turkoglu to a shooter like
J.J. Redick
and a functional two-player like
Quentin Richardson
, plus a point guard trio of
Jameer Nelson
-Chris Duhon-Jason Williams, and the Magic has more depth on the outside than any team in the NBA."