Posted by Royce Young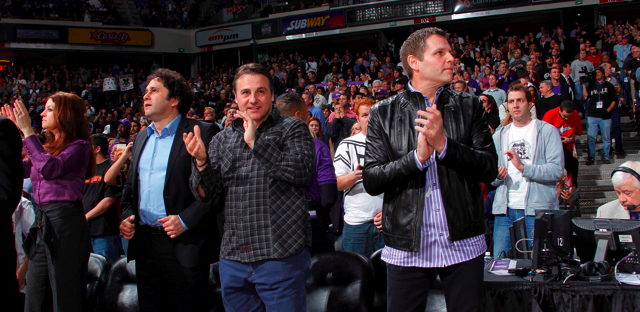 According to KFBK in Sacramento,
the
Kings
have taken out a line of credit worth $75 million from the NBA. The report says that Kings spokesman Mitch Germann said the team used the line of credit but wouldn't say specifically on what.
This is something I did not know about, this line of credit thing. Evidently, the NBA has $2.3 billion available to every team in its line of credit program. The report says this: "NBA Spokesman Mike Bass says 19 teams have borrowed money through the league Line of Credit program. The max any team can borrow according to Bass is $125-million." News to me. And the Kings didn't hesitate in using it.
I think most people's first thought was that the number has something to do with relocation, which is very expensive. Just to relocate, you have to pay $30 million to the league as a fee. And that's just the start of it.
Obviously the franchise is struggling financially, hence the relocation talks. The Maloofs have seen their various business ventures sag a bit during the recession and the Kings are not immune as their value has dropped (according to Forbes) by almost $100 million.
Here's something interesting mentioned in this report though -- the Kings might not have the league support needed to relocate to Anaheim:
Sources have told KFBK that an approximately 200-page document outlining the Kings move to Anaheim currently sits on NHL Ducks Owner and Honda Center operator, Henry Samueli's desk. Just last week lawyers were combing through the finer details of the deal. Honda Center officials would not confirm if Samueli had signed off on the agreement.

Those close to the negotiations say Samueli and the Maloofs are not sure they have enough support from the rest of the league's owners to approve the move. Kings officials have said all four Maloof brothers will be attending the NBA Board of Governors' meetings this week in New York City to try and convince at least 15 other teams to allow the Kings to relocate.

It's already been made clear that both Laker owner Jerry Buss and Clipper owner Donald Sterling are not really in favor of making a new bedfellow in the Los Angeles area, but they Maloofs have a lot of convincing to do to get a majority of owners on their side.
With the last NBA relocation, the Sonics moving to Oklahoma City, 28 owners voted in favor of it. The only two that didn't were Mark Cuban and Paul Allen.
Relocation is a mess. It's not easy on anyone, especially fans. The Kings are clearly losing money and want to try and find greener, as in money-making, pastures. It's hard to keep up with this thing but maybe it's a little too early to etch the move in stone.