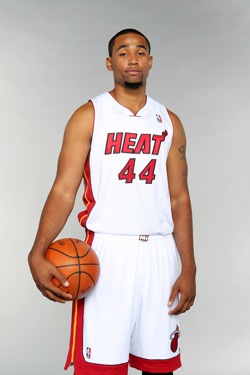 Posted by Royce Young
The
Spurs
have signed 2010 second round pick Da'Sean Butler for the rest of the season. Yep, the same second rounder that has for some reason garnered a bunch of interest lately.
The reason? Because Butler was a for sure first round pick before blowing his knee out in the Final Four, which killed his stock. He taken 42nd overall by the
Heat
who ended up cutting him to make room for one of their super old big men (I forget which one).
Now Butler has finally been cleared to play and the Spurs jumped on him.
It's unlikely he'll play at all for the San Antonio
but will finish up rehab on his knee while maybe watching his new team make a championship run. Not bad. (Butler is a 6-7 small forward and the Spurs say he'll be placed on the inactive list.)
This just feels like one of those savvy Spurs signings where they might find a diamond in the rough. All they did was give up a roster spot to let Butler practice with them. They get to evaluate him, see if they want to put him on their summer team and maybe have a nice role player for next season. Butler can play.
Again, he was the key piece for the West Virginia team that made a run to last year's Final Four and with him, the Mountaineers have a really good chance against Duke and maybe are the ones hoisting a trophy at the end. Who knows.
Point is, Da'Sean Butler is a pretty good player. The question is about whether his knee has recovered and if he can hold up for an NBA season. The Spurs, being a franchise that lives off these type of calculated risks, were willing to go for it. And it might just pay off for them. If it does, would anyone be surprised?