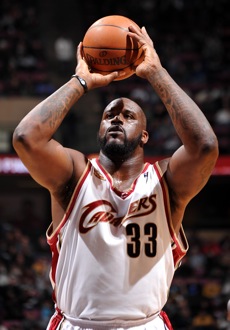 Posted by Royce Young
Did you know
Shaquille O'Neal
was born in Newark, New Jersey and spent the first 14 years of his life there? Yeah, me neither.
But the Big Fill In The Blank is committed to keeping basketball there. The
Nets
plan on moving to Brooklyn in a few years, but Shaq doesn't want to let that happen. So much so that he's said he's willing to become the Nets new general manager.
"I would have liked to see the new owner get with the guy who built the arena and keep the Nets there," O'Neal told the Bergen Record. "I don't want to see the team go to Brooklyn. Maybe the two heads can get together, they can do that and I can come down there and become general manager ... "We got a great owner, a great arena, let's keep it where it's at. Not only that, I'm saving the owner money so he doesn't have to pay another $300 million to build this new arena in Brooklyn. I know he has it. Hopefully he'll stay and hopefully he'll make me general manager because I will be available in 745 days."

The 745 days referencing Shaq's set retirement date, of course.
It's pretty interesting that Shaq calls the team/city "we." He must still feel a pretty strong connection to the city. Newark definitely isn't known as one of the beautiful, premier metropolitans in the country and the Nets haven't exactly been a model franchise. But that doesn't mean Shaq isn't interested in the path of his hometown team.
From the story it says O'Neal hoped he could influence owner Mikhail Prokhorov to make Newark a permanent home. But through an e-mail, Prokhorov said he has "the greatest respect" for Shaq, yet buying the Nets was "predicated" on moving them to Brooklyn.
Sorry Shaq. But here's the good news: Give Billy King a year or two and you just might have your shot. That's kind of the way it works around there.