The Utah Jazz completed five straight double-digit come-from-behind victories in one week. Posted by Ben Golliver.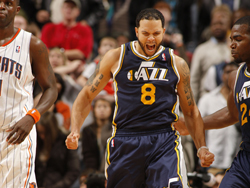 It's been one heck of a week for the Utah Jazz, who played five games in seven days and managed to win every single one of them. A 5-0 week is always special, but you won't find many like this in the NBA. Let's break it down for a minute. The Jazz defeated the Los Angeles
Clippers
, Miami
Heat
, Orlando
Magic
, Atlanta
Hawks
and Charlotte
Bobcats
. The Jazz defeated the Clippers at home and then reeled off four straight road victories. In the Heat, Magic and Hawks you have three surefire playoff teams, and the Bobcats should be in contention as well when all is said and done. Adding a degree of difficulty, the wins over Miami and Orlando came on a back-to-back, as did the victories over Atlanta and Charlotte. Ridiculous. To make the feat even more impressive, none of the five games was a runaway victory that would have allowed the Jazz some time to rest their key players. On the contrary, the Jazz edged the Clippers by two points in double-overtime, squeaked past the Heat by two points in overtime, pulled away from the Magic at the end for a 10 point win, slipped past the Hawks by four points and topped the Bobcats by a single point. Add it all up and that's a average margin of victory of just 3.8 points. But, wait, there's more. All five victories came in come-from-behind fashion. Double-digit come-from-behind fashion.
The Clippers led the Jazz by 18 points before Utah came back.
The Heat led the Jazz by 22 points before Utah came back.
The Magic led the Jazz by 18 points before Utah came back.
The Hawks led the Jazz by 11 points before Utah came back.
The Bobcats led the Jazz by 19 points before Utah came back.
That's just insane. Utah Jazz all star point guard
Deron Williams
joked to the Salt Lake Tribune
that the comebacks were all part of the plan.
And Utah's confidence is so high after five consecutive comebacks that Williams answered the first question during his postgame interview by joking about his team's recent penchant for late-game heroics after climbing out of deep, early holes.
"It's just what we like to do. It's our plan," Williams said. "Just let teams get up us on 20 and then come back on 'em."
Yuk away, Deron. You earned it with that week. To celebrate, the Jazz get a single day off on Sunday before hosting MVP candidate
Kevin Durant
and the Oklahoma City
Thunder
, winners of three of their last four, in Utah on Monday night.