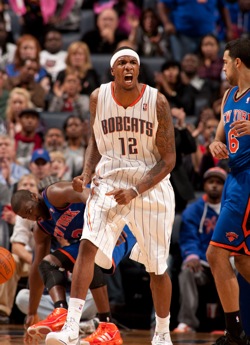 Posted by Royce Young
Just when things started to turn for the
Bobcats
and more specifically,
Tyrus Thomas
, something bad happened.
Thomas will be sidelined up to eight weeks after MRI revealed a tear of the lateral meniscus tonight, the team announced.

(An aside: How many players are going to tear a meniscus this season? Is it just me or is Thomas like the 50th guy to do it?)

Since Paul Silas took over for Larry Brown, not only has the team been playing better, but Thomas has been seeing more consistent playing time. Somehow, I feel the two are connected. After averaging right at 20 minutes per game the first two months of the season, Thomas has averaged 25.4 in January with Silas at the helm.

As a result, he's contributed heavily to Charlotte's 5-4 start to the month, which has put the Bobcats back in the Eastern playoff discussion and potentially Thomas into the Sixth Man of the Year talk. He was finally being freed.

Except now, he's out for possibly two months. How cruel things can be.

What does this mean for Charlotte though? Well, more Boris Diaw and more Derrick Brown. The Bobcats might even experiment a little with Gerald Wallace at the 4 and move Dominic McGuire to small forward. Or even Stephen Jackson to the 3 and Gerald Henderson in at shooting guard.

They have a few options, but for a team that's already paper thin inside, losing Thomas for an extended stretch is really a killer.

The other option is for Charlotte to just blow it all up. There have been talks about the Bobcats shopping Stephen Jackson and Wallace for young assets and picks and maybe this is the nail in the coffin for Michael Jordan to go ahead and do it. The team has legit playoff hopes (they're actually in seventh at 17-24 after beating Philly Thursday) but without Thomas for two months, it becomes a bit of an uphill climb.

I mean, we're talking about a team that starts Kwame Brown at center and has Nazr Mohammed backing him up. The other backup, DeSagana Diop is out for the season with an achilles injury. So the Bobcats aren't deep inside.

If Charlotte had any visions of making a run at the eight-seed in the East, those hopes took a major hit with this injury to Thomas. It can be overcame, but some players are really going to have to step up.
Otherwise, maybe it's time to set dynamite to the roster.