How can NBA owners win the public relations battle during the NBA lockout? Posted by Ben Golliver.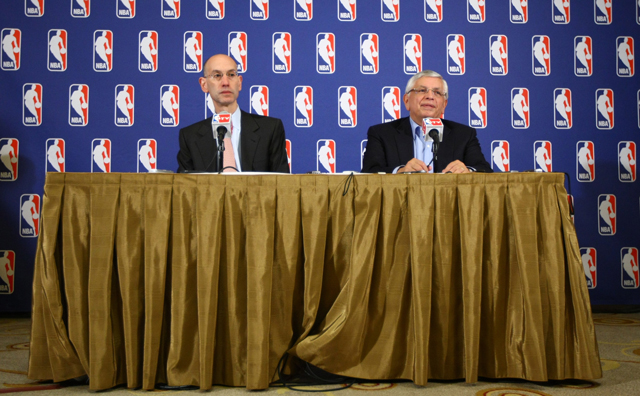 On Thursday, Matt Moore
took a look
at how NBA players can curry favor from the general public during the ongoing NBA lockout. His plan included circling the wagons, being honest and educating fans and taking the high road. All great ideas for any negotiation, especially one as high-profile and public as the NBA's.
With the players' PR plan in place, how about the owners? What can this group of billionaires due to help gain support, if not sympathy, for their plight?
Let's start off by acknowledging that this is an impossible task. The common man cannot relate to the billionaire. It's impossible. The gap is too wide, the lifestyles are too different, the realities are too disparate. Likewise, the billionaire, no matter how hard he tries, cannot put himself in the common man's shoes. Once your income hits the eighth or ninth digit, a bubble forms around you that is impervious to real, everyday struggles. When people are hired to pick up your dry cleaning or answer your telephone or manage your Twitter account, it's over. There's no going back.
The goal for the NBA owners, then, shouldn't be unrealistic. They don't need to come off like Santa Claus. Instead, they just need to appear a little bit less like Montgomery Burns. Right now, the general air from ownership and the league is that it doesn't much care for the public relations side of this battle. It has remained very quiet, refused to open its books publicly and responded to only a few accusations with prepared statements. Otherwise, pretty much total silence.
In that vacuum, the players have shined. They've put together funny spoof commercials, shown off their skills in pick-up games and camp across the globe, continued their massive presence on social networking sites and done a very good job of communicating their desire to not miss any games. Put all of that together, and the owners have a tough uphill battle to climb.
Here are five things they should do to get started on the public relations war:
1. Pledge To Protect All League Jobs
The No. 1 complaint against any professional sports team owner who locks out players is that he is greedy. That's the No. 1 complaint because it's pretty much always true. There's no good, direct answer to that question. The owners have made it clear they want more money, significantly more money, and that makes them look greedy.
A good work-around solution: Do what you can to make the players look greedy. Put all the pressure and attention on players' salaries -- they make millions to play a game -- while doing whatever you can to make yourself look like a philanthropist. Encourage your teams to increase their efforts in the community. More camps! More hospital visits by team employees! More everything! Then, to cap it all off, pledge to protect all jobs -- within the team and at the league level -- throughout the duration of any work stoppage.
See what that would do? It would isolate the players, making them look like the bad guys. "We're all over here doing our jobs and protecing our hard-working employees and their families while you guys make so much money it threatens to put us out of business!" The general public highly values loyalty and commends those who put their employees' interests before their own.
Oh, wait. Wait. You're telling me the NBA announced less than two weeks into the lockout that it's
laying off 11% of its workforce
and then said it was due to a desire to cut costs? In other words, because the league wanted to keep more of the money it was generating? Oh boy. We're off to a rocky start here.
2. Don't Make Idle Threats
Appearing tough is very, very important during a negotiation. You can't blink first. You've got to make it clear that every word that you speak is to be taken seriously and every demand you make must be met or the entire deal is at stake. Those are basic negotiating principles. Whatever you do, owners, do not make idle threats. If you say that you will take an action if something happens, you have to take that action when that something happens, or you look both soft and like you're blowing smoke. Your credibility gets crushed and the other side has no real incentive to take any of your other demands seriously.
Unfortunately, the NBA has failed this one too. As soon as the lockout went into effect on July 1, the league made it very clear that a gag order was in place. No team employees were to make public reference to a current player or they would risk a $1 million fine. In addition, the NBA scrubbed its website of references to current players.
Granted, that's a fairly ridiculous and petty decision, but it was their decision. What's happened since the gag order went into effect is even worse. Minnesota
Timberwolves
president David Kahn mentioned multiple players during a press conference streaming live on his team's official website. Dallas
Mavericks
coach Rick Carlisle mentioned multiple players during a radio interview. Both were clear violations of the supposed gag order and yet the NBA has tap-danced around whether it will fine the offenders as threatened. Guess what? Until someone gets fined, and fined big, violations of the gag order will continue ad nauseum. Each time a coach or team executive accidentally steps out of line, the NBA looks less and less in control and united.
In the public's eye, they start to look like they're full of it. Why should the Average Joe believe the NBA is losing millions of dollars a year if the league won't follow through on its promise to fine people? Say what you mean and mean what you say. Hammer the offenders or offer a really, really good explanation for why you didn't. Otherwise, the impression is that you're tough-talking bullies who don't need to be taken seriously.
3. Take The Lead On Meetings
This is an easy one. Fans do not want to miss games whatsoever. The players seem committed to doing whatever it takes to not miss games. At least some portion of the owners seem content to miss a whole season. That's a huge public relations black eye.
The best way to fix it? Go way above and beyond to make it clear that you're willing to meet to negotiate at any time and place. No two-to-three week breaks after the lockout is imposed. No waiting until the players start to feel a pinch in the fall. No delay tactics. If you're seriously committed to potentially losing a season, you absolutely have to be able to point to your track record and say, "Look, we did everything in our power to prevent this from happening. We killed ourselves to make a deal." Get up early, stay late, use videoconferencing tools, use subcommittees. Whatever. It. Takes. If you want a new, restructured economic system then you must do everything in your power to prove your commitment to the goal.
Missing a season would be a bitter pill to swallow, but it will be 10 times worse if it happens without continued negotiations and contact between the sides between now and the start of training camp. The general public hates billionaires and millionaires arguing over money. But the general public really hates billionaires and millionaires who can't even be brought to the same table to argue over money.
4. Use The Past As A Guide For The Future
The NBA just completed a Collective Bargaining Agreement that both sides, obviously, signed off on. The owners chose to lock the players out because they felt an overhaul was necessary. Other than repeating a desire to guarantee a profit to its teams and increase competitive balance, the owners have not done a good job of communicating exactly what portions of the framework need to be reworked, and why. An important ingredient in this communication is explaining what didn't go according to the owners' plan at the time.
While the league has maintained that it won't conduct negotiations in public, finding a way to present the flaws or unexpected outcomes from the previous deal would help the general public have a much better idea of where they are coming from. Just about everyone can relate to changing interest rates on their mortgage, car loan or credit cards. No one likes to pay more after the fact than they were expecting, especially if it's something that is out of their control. The owners would be wise to own up and lay out the areas where that occurred. "We didn't anticipate this" or "This wound up costing way more than projections" or "This competitior came in and influenced this revenue projection" or whatever.
Lay those out as mistakes or needs for correction. Then, and only then, provide the remedies and explain why those remedies protect the league from future risk. Belts have been tightened across the country. People have spent more conservatively on discretionary items. Connect your goals to that behavior and you've got a real chance to make some headway.
5. Paint A Pretty Picture
As any GM worth his salts knows, you absolutely must sell hope. There needs to be a pot of gold over this rainbow. All the dreary talk about losing money gets people down. Nobody cares if you're losing money. Again, you've got to flip this for fans. What is in it for them?
The owners must start painting the dream. How great will the NBA be in three years if you get your way? How many homes will be watching games then compared to now? How many teams that would have had to move will be safe in their current locations? How many teams won't have to be contracted? How many jobs will be saved and/or restored? How many hours of community service can be added? What cool new events can be added to All-Star Weekend? What preseason showcase tours will pop up on the schedule? What interactive TV or internet programming will now be possible?
Sell. Sell. Sell. You made millions selling products or services. Do not stop selling the future of your league in your vision. People want to hear it. Just make sure it sounds better than the status quo for someone besides yourselves.
Conclusion
When it's all over, offer the fans a blatant kickback. Discounted tickets or jerseys. Public autograph sessions. Free NBA League Pass for an extra few weeks. Whatever. Have a goodwill gesture on tap because, regardless of how long the lockout extends, you'll need it.