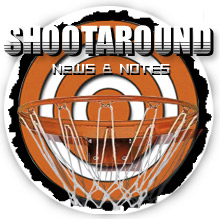 Rodman's overheard orgy, Artest's ring on the market, and Bogut's MRI.

Posted by Matt Moore
Get your Kleenex ready. The
Orlando Sentinel
reports
of a visit from
Dwight Howard
to a woman dying of Stage 3 Multiple Myeloma. The one wish from a dying woman? A visit from the Orlando All-Star. It's a touching story, one that wound up with Howard being the one changed by the visit. Howard is in a unique position for these types of life-changing events. His relationship with his faith may come under constant scrutiny because of his fame, but it also equips him for times like these, comforting a woman on her way out with laughter and compassion.
Ron Artest
is
selling his championship ring
, for charity, before he even has a chance to wear it. NBA.com reports that Artest will sell the ring without putting it on in a fundraiser to help put more mental health professionals in school. This comes on the heels of Artest working in schools to promote good mental health. It's indicative of a drastic reversal in public perception, with Artest going from being considered crazy in the negative, non-serious sense to really putting himself forward as a champion for the cause of mental health intervention. Standing "O" for Crazy Pills.
Dwyane Wade
is
in court this week
for the custody case of his children. His lawyer is recommending custody for Wade, obviously, and there's a lawyer for the boys with three recommendations in play. All three recommendations feature Wade in a custody position to some degree. It would appear the talk of family being important for Wade is talk that's being walked, in this instance.
Depressing news out of Sacramento
, as police are investigating vandalism of a
Kings
mural with a swastika that may be related to Kings' Israeli player
Omri Casspi
. Seriously, folks. We can move past this, right? The vandals really should watch the kid pass in transition. It's hard to hate him after that.
Andrew Bogut
is
seeing a hand specialist and having an MRI done
. Nothing to worry about, really. After all, there's still like, two weeks before training camp...wait, that's not much time at all. Dang.
So Dennis Rodman? Yeah, he went to a party, and was MC'ing, and then left his microphone on when he went upstairs. That's embarrassing. Wait, what's that you say?
He was upstairs having sex with six women?
What's the word I'm looking for here? Oh, yeah. Icky. But hey, good to know that just like his playing days, Rodman is hyper-efficient. At least those guests that overheard him on the microphone downstairs can cross "eavesdrop on Dennis Rodman in an orgy" off their bucket list.
Spain fell to Serbia yesterday, in a minor upset. Here's h
ow Spain unraveled
. It was a shocking loss for Spain, and for those that believe that
Ricky Rubio
can actually walk on water, part the seas, and hit a jumpshot.
A look back at Dwight Howard's
career nights
. It's posts like this that make you think twice before criticizing his play too much.
If you have Raptor fan friends, prepare for them to be a
grumpy bunch next season
. They're gaining a great scorer (as he's shown in World play) in
Linas Kleiza
, but they're worried about his usage. They have a dynamic scorer in
Andrea Bargnani
, who, quite honestly, they hate because he doesn't rebound. There's just a lot of bad blood there right now.
I can
answer this question
. Does
Luke Harangody
have a role with the
Celtics
? Sure. Someone's gotta be mascot.
Jared Dudley
is
resigned to a good-faith situation
with the
Suns
. That rarely works out well in the A.