The Miami Heat react to questions about whether they celebrated too much during Game 2 of the NBA Finals. Posted by Ben Golliver.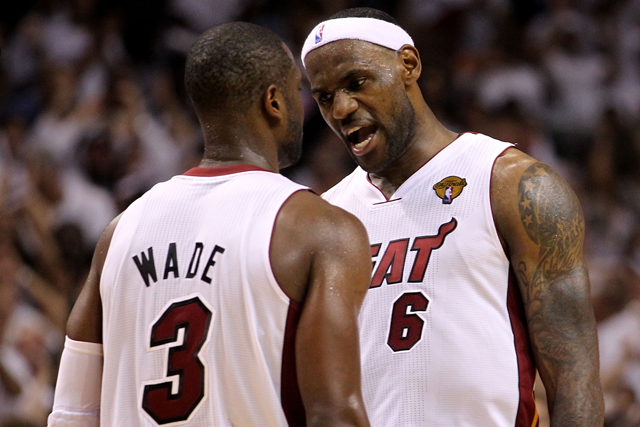 DALLAS -- You couldn't miss it.
The Miami Heat were pleased with themselves, up 15 points in the fourth quarter and cruising towards a second straight victory to open their NBA Finals series against the Dallas
Mavericks
.
Dwyane Wade
struck a pose in front of the Dallas bench after nailing a corner three-pointer.
LeBron James
machine-gun punched Wade's chest in exuberation as the teams headed to the sideline for a timeout.
It would be the last happy moment for the Heat, who collapsed in epic fashion down the stretch, giving up a 22-5 Dallas run to close the game. Following Dallas' 95-93 Game 2 win,
CBSSports.com's Royce Young quoted
Mavericks guard
Jason Terry
singling out the celebration as a turning point.
"Right at that moment, it was a turning point in the game," Terry said. "Obviously we come out of that timeout and we don't score, then we're pretty much dead ... I specifically looked at Dirk [Nowitzki] and said, 'There's no way we're going out like this.'"
If the celebration served as motivation for the Mavericks, it also served as a key talking point for the media. The Heat, arguably the league's most confident -- or cockiest -- team, faced a series of questions about their celebrating after Game 2, spawning tons of articles and discussion about whether Miami had gotten ahead of itself. Reporters have even taken to calling the mini-controversy "Celebration-gate."
On Saturday, Heat coach Erik Spoelstra and his players brushed off questions about the outcry over the celebrating.
"Another storyline," Spoelstra said dismissively. "I'm not really concerned about that. I'm more concerned about how we executed or had a lack of execution going down the stretch. That's much more important to our team than any of the other storylines."
"That's part of the game," James said. "We're an emotional team. When we make plays, we can congratulate one another. I don't see why this whole thing has been blown out of proportion."
James said his team's reaction was no worse than Mavericks guard Jason Terry's signature airplane wings celebration, which is a play off of his nickname "JET."
"I've seen Dallas go on plenty of runs before," James said. "You know, if [Terry] hits a three and they make a big run, if he runs down the court doing the whole wings expanded, do we count that as a celebration as well? I just think everything gets blown out of proportion when the Miami Heat does things."
Heat forward
Udonis Haslem
took things a step further, calling out Terry for his post-game comments about Miami's celebrating. "This is coming from a guy who scores a layup and acts like a 747," Haslem told
the Associated Press
.
Ultimately, Spoelstra said he would rather have an expressive team than one that simply goes through the motions.
"We're viewed in a different way than most teams. We have enthusiastic guys, exciteable players. I would certainly rather have that than a bunch of zombies out there."
Here's video of Miami's Game 2 celebrations.