Posted by Royce Young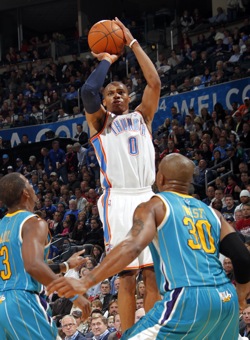 OKLAHOMA CITY -- NBA fans, probably more than any other group, love to debate and argue. Mostly about who is the best at this position, who is the best overall, or if you're a Laker fan, you just yell "KOBE KOBE KOBE" when asked about anything.
Kobe or LeBron used to dominate every message board and comment section, but really, 2010-11 has become the season of the Great Point Guard. At the beginning of the year, it was
Rajon Rondo
with all those history-making assists. Then it was
Chris Paul
again as he led his
Hornets
to a surprising start. Then of course there's
Deron Williams
, who is consistently excellent. Oh yeah,
Derrick Rose
who wows us with his up-and-unders, plus is carrying the
Bulls
to one of their best starts in years.
Everyone has a favorite in the race, but the lineup is pretty well settled. Those four really make up the current pantheon of great point men in the league. But there's another player that's standing at the door, asking for an invitation to the club.
I think it's time to start talking about
Russell Westbrook
.
Monday night in Oklahoma City, we were treated to a duel between Westbrook and Paul and by the end of the game, we were getting exactly what we wanted. Both players were going right after each other, trying to put their team on their back. Everyone expected Paul to have the edge. But it was Westbrook who came out on top.
In the fourth quarter, Westbrook scored 12 of his 25 points, while going a perfect 4-4 from the field. He also finished with 11 assists, five rebounds and five steals. He hit the game-clinching shot too, a 3-pointer right in the face of Paul with 1:38 left that put OKC up 88-81. Westbrook took over the game entirely, and did it against maybe the best player in the league at his position.
"It's the new Russell man,"
Kevin Durant
said after the game. "He's just taking over games and controlling games. That's what we need for us to win."
It's true. While Durant is Oklahoma City's de facto best player, Westbrook has probably been the team's MVP in the opening month. While Durant has struggled shooting the ball, Westbrook has found a way to pick up the slack, scoring in bunches all while running a fluent point guard. He's the team's unquestioned emotional spark and Westbrook has developed a knack for the dramatic in big moments.
Westbrook was so terrific in the game that his eight turnovers almost went unnoticed until you looked at the box score. It's true - Westbrook was out of control at times and four of those turnovers were completely unforced. But it speaks to something when a guy can shake that off and still put up the effort he did against one of the best defending guards in the league.
"Russell made big plays for us, which was helpful in getting the victory," said
Thunder
forward
Jeff Green
. "That's what Russell does. He's been doing it all season for us. Russell has been playing big all year and hopefully, will continue."
Here's a fun fact: Westbrook is one of two players averaging over 20 points, five assists and five rebounds a game. The other guy sharing that honor is
LeBron James
. Actually though, save rebounds where James hold a slim edge, Westbrook is averaging more points and assists than the reigning two-time MVP.
In head-to-head matchups with the game's other elite point guards (Williams, Paul, Rondo and Rose), Westbrook is averaging 24.0 points, 7.5 assists and 4.5 rebounds per game. Plus, his team is 4-2.
The West is stacked with
Steve Nash
, Paul, Williams and
Jason Kidd
so getting an invitation to the All-Star Game won't be easy. But Westbrook's putting together a nice early campaign and he's got the attention of opposing coaches.
"He's an All-Star," said New Orleans head coach Monty Williams. "He probably won't get the votes unless [the commissioner] puts him in the game. But that guy is playing at a level that you scout for him about 10-15 minutes of your practice because of his pick-and-roll, how he's shooting the ball now, and he gets to the free throw line about 10 times a game. If you said that and just left the name blank, you'd say that's an All-Star."
Funny to think about this time last season people were still wondering if Westbrook was really even a point guard. Now the question is, is if he one of the best in the game. Right now, it's kind of hard to argue against it.