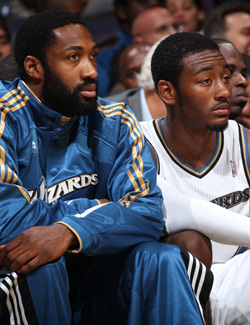 Wizards' three best players likely out versus defending champion Lakers.
Posted by Matt Moore
You know what the Wizards can't afford to have happen?
John Wall
to miss games. The number one overall pick leads the Wizards in assists and steals, is third in scoring, and fifth in rebounds. But if Wall is missing, what the Wizards really can't afford to have happen is for
Gilbert Arenas
to miss time. He's their leading scorer and second best overall player. But if those two are missing, they certainly can't afford to have
Andray Blatche
gone.
You know where this is going. From the
Washington Post
:
Blatche's appears to be the most severe, with Coach Flip Saunders saying that the 6-11 forward is "probably out" against the two-time defending champion Los Angeles Lakers with a swollen left knee. Wall has developed some soreness in his right knee, which Saunders said is probably the result of overcompensation from his left foot injury, and is "very questionable." Arenas is probable, with what the team is calling "general soreness."
via
Wizards Insider - The latest NBA news from Michael Lee.
Which means the Wizards, who face the Lakers Tuesday, will be without their three best players, against the most talented team in the league (apologies to the Miami Triad). Even with the Lakers struggling, they're still a dominant team, and the Wizards were a heavy underdog to begin with. Without any of the Wizards' Moderate-Sized-Three, they may as well forfeit. This could get ugly.
Derek Fisher
and
Lamar Odom
are probably thankful, though.
Anyone else wonder if Flip Saunders is going to have to turn to some sort of medicinal alternative to get through this stint with the Wizards?