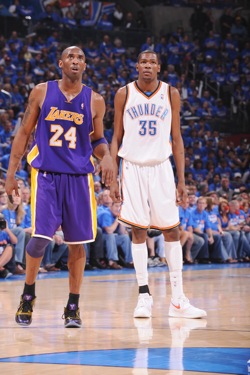 Posted by Royce Young
The first returns for the 2011 All-Star teams are in
and really, not a lot of big surprises.
Kobe Bryant
leads the West,
Dwight Howard
leads the East and for a 10th consecutive year,
Brian Cardinal
is nowhere to be found.
Looking over the numbers, obviously the first thing that has to stick out is of course
Yao Ming
and
Andrew Bynum
being the top two vote-getters at center in the West. Between the two, they've played a grand total of seven games.
This is what irks so many about letting fans votes, but that's just the way it is. Yao has the most populated country in the world voting for him and Bynum has probably the biggest fanbase voting for him. It's the way it works. I'd love to complain and gripe about it and tell you how
Tyson Chandler
or
Al Jefferson
should be getting consideration, but nobody's listening.
(Seriously though, neither Chandler or Jefferson were even on the first returns? Really?
Chris Kaman
,
Andris Biedrins
and
DeMarcus Cousins
are but the two most productive Western centers aren't? And
Derek Fisher
has 81,000 votes but the league's leading rebounder
Kevin Love
only has 700 more? I hate people sometimes.)
So if the All-Star Game were today, the starters for each conference would be:
EAST
PG:
Rajon Rondo
SG:
Dwyane Wade
SF:
LeBron James
PF:
Kevin Garnett
C: Dwight Howard
WEST
PG:
Chris Paul
SG: Kobe Bryant
SF:
Kevin Durant
PF:
Pau Gasol
C: Yao Ming
The closest current races are Carmelo behind Gasol and
Derrick Rose
behind Rondo. Gasol trails Anthony by about 20,000 votes and Rose is behind Rondo by about 75,000 votes.
One mild and pleasant surprise is that Kevin Durant is the second-leading vote-getter in the West behind Kobe. Durant has 470,881 votes to his name right now, still almost 300,000 behind Kobe though. But Durant is well on his way to his second All-Star team and first one as a starter. He's ahead of talented players like Pau Gasol,
Dirk Nowitzki
,
Carmelo Anthony
and
Tim Duncan
. Quite a big year for Durant. From a player known only as underrated and hidden in the league's smallest market to the second top star in the West only behind Kobe is a big step up.
The East though is basically the Miami
Heat
and friends. LeBron and Dwyane Wade are two of the top three vote-getters with Dwight Howard being second, Rajon Rondo fourth and Kevin Garnett fifth. The "other" guy on the Heat,
Chris Bosh
, is fifth among forwards right now with 161,801 votes. Interesting players that are ahead of Bosh in the East in total votes?
Paul Pierce
,
Ray Allen
and
Shaquille O'Neal
. I guess if you really wanted the spotlight Chris, you should've went to Boston.
Talking rookies,
Blake Griffin
leads all so far with more than 245,000 votes.
John Wall
checks in with a little over 120,000 and Cousins has 37,000 in a watered down center class in the West.
Of course, these are just the first returns and things can definitely change. You'll see those kids at games with a stack four feet tall of ballots and then may all have only Derek Fisher's name punched. But more than likely, the two starting units will end up close to what they are now.