The Atlanta Hawks are reportedly targeting Enes Kanter and want to trade Josh Smith to the Minnesota Timberwolves for the No. 2 pick. Posted by Ben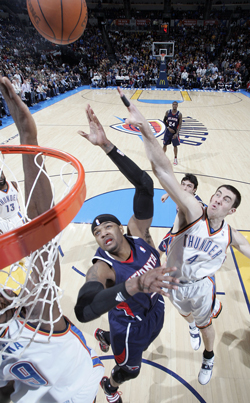 Golliver.
Earlier this week, we noted that the Atlanta Hawks and forward Josh Smith could be on a path to parting ways.
On Thursday, hours before the 2011 NBA Draft,
Yahoo! Sports reports
that the Hawks are pushing Smith on the Minnesota Timberwolves, in hopes of landing the No. 2 overall selection.
In a lust to draft center Enes Kanter, the Atlanta Hawks are trying to engage the Minnesota Timberwolves in discussions to trade Josh Smith for the No. 2 pick in Thursday's NBA draft.

Hawks GM Rick Sund has been hugely interested in Kanter throughout the pre-draft process, sources said, and has clearly been looking to find a deal for Smith. Under the salary cap, the Wolves could absorb the $13 million-plus owed him next season without sending back corresponding contracts.
The presence of power forward
Kevin Love
in Minnesota makes a straight-up Smith trade questionable, however the Timberwolves could always send him elsewhere or turn this into a three- team deal, using their cap space to facilitate player movement. If he was there to stay, he'd swing to a wing position, prompting mismatches with his size and length but causing headaches any time he attempted a shot from the perimeter.
The Hawks' pursuit of Kanter also comes with questions, as Arizona forward Derrick Williams has been the consensus No. 2 overall pick in the lead up to the draft. Most analysts have Kanter going No. 3 overall to the Utah
Jazz
, but the Jazz don't have much room in a crowded frontcourt to add Smith. Meanwhile, the Hawks already have a franchise center in place in
Al Horford
. At 6-foot-11, 260 pounds, Kanter is generally projected as a five but could possibly be shifted to the four.
The primary motivation for any Smith trade is financial. From Atlanta's perspective, being able to dump his contract outright on a team with cap space, like the Timberwolves, would be ideal.