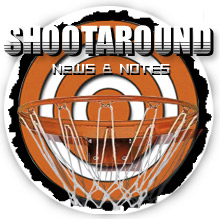 Kings don't want Ming, Camby doesn't want out, and a really weird Mavs video, all in today's Shootaround.
Posted by Matt Moore
Vince Carter
is expected to make
his
Suns
debut tonight. The Suns' training staff is excited to take on their biggest challenge yet. Keeping Carter on the floor for more than five minutes at a time.
Marcus Camby
has had just about enough of being bounced around and is feeling very "Danny Glover in
Lethal Weapon."
He may be too old for this stuff. He's making noise that were he to be traded to a bottom-feeder like Charlotte,
he may just retire instead
. He doesn't need the cash and has talked about retirement for a few years now.
Since when did
Kobe Bryant
feel the need to get into it with
third year players like
George Hill
?
And since when did
Pau Gasol
feel the need to call out
the
Lakers
' lack of inside presence without taking on the responsibility himself for not establishing post position? Gasol did respond to suggestions that the Lakers' bigs needed to call for the ball more, but didn't comment on his post position.
The
Heat
's
intro video is really silly
.
The
Magic
have
shot 47.4% from the arc
since the big trade two weeks ago. So much of that is having more weapons on the floor and guys who understand spacing. The guys they shipped out had simply lost that with age.
Corey Maggette
is
making all sorts of bad noise
in Milwaukee about the team, the coaches, everything. Bad mojo on the horizon.
The Kings
are not interested
in any trade for
Yao Ming
. Which is bizarre because anything else they would get back from Houston would be better than what they have now.
Then there's this. Whatever this is.