Here's a look at the blueprint for the Miami Heat to win the 2011 NBA Finals. Posted by Ben Golliver.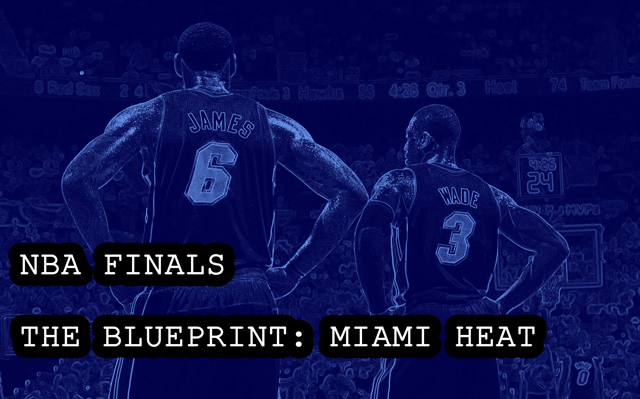 One more series, four more wins. The Miami Heat are on the verge of proving their many, loud naysayers wrong in the very first season since
LeBron James
,
Dwyane Wade
and
Chris Bosh
decided to team up during the summer of 2010. The team's strategy for completing their journey to the 2011 NBA title will feature the same philosophies that have produced a 12-3 postseason record, perhaps with a few tweaks to account for specific aspects of their opponent: the Dallas
Mavericks
. Let's break it down.
When Miami is on offense:
The foundational element of Miami's offense is pure talent and athleticism. With James, Wade and Bosh, the Heat boast three players who are capable of scoring in multiple ways and from many, many different locations. They'll enter the NBA Finals presenting the Mavericks with match-up problems at all three positions. Heat coach Erik Spoelstra has played all three increasingly heavy minutes during the Finals push. Look for that to continue on the grand stage, obviously.
The biggest disparity in talent comes at the two spot, where Wade is too quick, crafty and multi-dimensional for
DeShawn Stevenson
, and too big and athletic for
Jason Terry
. Wade was a bit limited against the Chicago
Bulls
in the Eastern Conference finals and there's speculation that he might be suffering the effects of an injury. Regardless, he can get to the basket with an array of moves, is an expert at drawing fouls and has a good sense for when to take over a game. He's developed a nearly seamless one-two punch with James in the playoffs, and pretty much everyone has been left reeling.
Speaking of James, he will own a major match-up advantage as well, even though Mavericks forward
Shawn Marion
has played very well in the playoffs. James' strength will be a major asset here, as Oklahoma City
Thunder
Kevin Durant
struggled against Marion because he was often not able to establish position or get himself open. James, who handles the ball regularly and has one of the best physiques in the league, will not have those problems. Marion and Stevenson will settle for making James work and limiting his efficiency. He's going to produce in a big way no matter what.
Dallas will surely look to counter these perimeter deficiencies by switching to zone defenses and hoping that Miami settles for contested three-pointers. It's a pick your poison approach that likely will not be sustainable for major stretches. Shifting quickly between different looks and using center
Tyson Chandler
as a rim protector will help. With both James and Wade playing such heavy minutes, Dallas likely won't be able to use its bench as much as it might want to, as Peja Stojakovich and J.J. Barea are defensive liabilities. Barea can probably be hidden, but finding minutes for Stojakovic will be difficult. There's no zone in the world that can help him stay with James or Wade.
In other words, this series belongs to James and Wade if they show up determined to steal it. They're an overpowering, talented duo that doesn't have a match.
On top of that, Bosh's range will present problems for Dallas, just as Portland
Trail Blazers
forward
LaMarcus Aldridge
did in the beginning of their first round series. The Mavericks will look to muscle Bosh, but he just stood up nicely against the Bulls and Boston
Celtics
, perhaps the two hardest-nosed teams in the league. Attending to Bosh at all times will leave Dallas that much more vulnerable to penetrating attacks from James and Wade, and certainly all three players are capable of getting Chandler into foul trouble.
With
Mike Miller
coming on a bit to help space the floor,
Udonis Haslem
adding some energy and occasional offense, and the point guard pair of
Mike Bibby
and
Mario Chalmers
showing up just often enough to not completely stand out as weak links, the Heat have proven why they are the No. 1 ranked Eastern Conference team when it comes to offensive efficiency. There's balance and a nice array of scoring options in the halfcourt.
Dallas has survived on defense in the playoffs by forcing and capitalizing on the mental breakdowns, especially late in games, of their opponents. The Heat have passed every test in that regard, showcasing huge spurts against both the Celtics and the Bulls when they needed it most. This series will be decided by who executes better late in games; It's hard to bet against the Heat, especially coming off of their spectacular Game 5 comeback against the Bulls in which James and Wade were both timely and unstoppable.
When Dallas is on offense:
While Dallas has the No. 1 overall offense in this year's playoffs, the Heat just might be breathing a sigh of relief entering this series. Why? Because the Mavericks do not have an elite athlete at the point guard position, an asset that has forced the Heat to switch their positional match-ups regularly because of Bibby's deficiencies as a defender. Now that
Rajon Rondo
and
Derrick Rose
are in the rearview, the Heat can get back to more conventional match-ups.
That is, of course, unless Spoelstra wants to turn his best defender, James, loose on
Dirk Nowitzki
. Dallas' All-Star forward has been pretty much unstoppable in the postseason, scoring in as many ways as you can think of and getting to the foul line whenever his shot hasn't been falling. In James, Nowitzki might be meeting his match: He's strong enough to force him away from the hoop, quick enough to get up and contest any shot, and savvy enough to play solid ball denial defense without exposing himself to backdoor plays or other counters. In other words, if James sets his mind to make Nowitzki's life miserable he is fully capable of doing it.
The Heat will likely turn to that smaller defensive lineup, but they also have the option of using Bosh, Haslem or center
Joel Anthony
on Nowitzki as well. In that trio, the Heat have good quickness, size and strength options, as well as three intelligent players who understand time/score situations and will do their best to limit Nowitzki's cheap points.
Aside from Nowitzki, the key to stopping Dallas is to maintain total commitment to your perimeter defensive rotations. With
Jason Kidd
at the helm, the Mavericks move the ball very, very unselfishly, finding the open man and taking high-percentage shots. The Heat have the athletes on the perimeter to close down space very quickly and have shown the defensive commitment that the
Lakers
, for example, were unable to maintain. The Heat's stars also have an uncanny ability to remember tendencies: James, Wade and Bosh are all well above average in their ability to size up their opponents' strengths and weaknesses. They'll force players like Stevenson to beat them.
Barea might very well be the role player who poses the most difficult match-up for the Heat, who lack an undersized, quick guard to stay with him. However, there will be plenty of athletes looking to help from the weakside should he attempt his patented forays into the paint. One-on-one, players like Marion and Chandler are not capable of hurting the Heat. They'll have much more success when the ball is moving, so you can expect the Heat to do everything they can to disrupt that rhythm and movement.
Finally, the Heat will look to continue their solid team work on the glass. The Heat have been top five in defensive rebound rate in the playoffs, getting big contributions from both James and Wade, as well as the big men. That will need to continue given the presence of Chandler and Nowitzki, who have been a fearsome rebounding combination as well.
Summary:
To sum this up: The Heat will look to win the 2011 NBA Finals by exploiting their clear offensive match-up advantages: LeBron James and Dwyane Wade. That duo will be encouraged to be in full attack mode from the opening tip, looking to get to the foul line and scramble Dallas' defense off the dribble, opening up shooting and passing lanes for Chris Bosh and the rest of Miami's role players.
While the Mavericks only have one player that can be expected to stay with James, the Heat have four quality options to throw at Dirk Nowitzki. Constant pressure and extra attention on Nowitzki will be a major defensive goal, but just as important will be Miami's ability to keep its shape and limit uncontested shots.
On paper, crafting a blueprint for victory in this series for the Heat is much easier than it is for the Mavericks. The element of luck or chance is not really at play here. It's about exerting clear advantages -- perimeter athleticism, top-end talent, high basketball intelligence -- rather than hoping, praying or getting unusually hot from outside.
Miami isn't in the NBA Finals by accident. And it won't be a surprise if they execute this plan with ruthless efficiency.