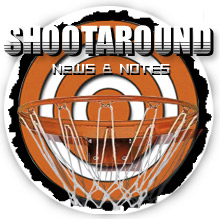 Posted by Royce Young
Darren Rovell of CNBC on why the NBA messed up purchasing the Hornets: "The last point is the public relations disaster that this could create. If George Shinn and Gary Chouest couldn't make it in New Orleans, fine. They'd say that and leave. Now it's the NBA's business to put this team in the best position it can and if they leave New Orleans it will be the league's fault, not Shinn or Chouest's fault, that they left."
An editorial from The Times-Picayune: "Mr. Stern and the league played an important role in the Hornets' return to New Orleans post-Katrina. The league also brought the NBA All-Star game to New Orleans in 2008, and metro residents are thankful for that support. The league is appointing Jac Sperling, a native New Orleanian and vice-chairman of the NHL's Minnesota Wild, to run the Hornets. But the new ownership raises questions as to the team's future, especially as the current lease expires in 2014.
Magic Johnson should buy the Hornets?
At The Hive on why the Hornets aren't the Expos: "The Hornets, however, are a viable, competitive, and valuable franchise. Their only problem is that George Shinn wanted out of the organization quickly, and that wasn't able to be done quickly enough for his desire and still keep the franchise in New Orleans. It's not a team, like the Expos, that were deemed to be of negative value to the league."
Noam Schiller of Both Teams Played Hard on MIP candidates: "Russell Westbrook: And who stands above Horford for 2nd in the league in PER? I'll give you a hint: he plays for the Thunder and he isn't Kevin Durant. Westbrook has taken his scoring to the next level by using his speed and athleticism to constantly get to the rim, where he either converts his shots at a career high 55.2%, or draw fouls. Russ is getting to the line 9.6 times a night (good for 4th in the league) and making his freebies at a career high 87% clip, combining with last year's prominent leap-maker Kevin Durant to create the league's most deadly foul drawing team. If he doesn't make the all-star team this year, something is wrong with the universe."