Heat forward to undergo surgery, out "several months" as Heat begin to explore replacment options in frontcourt.
Posted by Matt Moore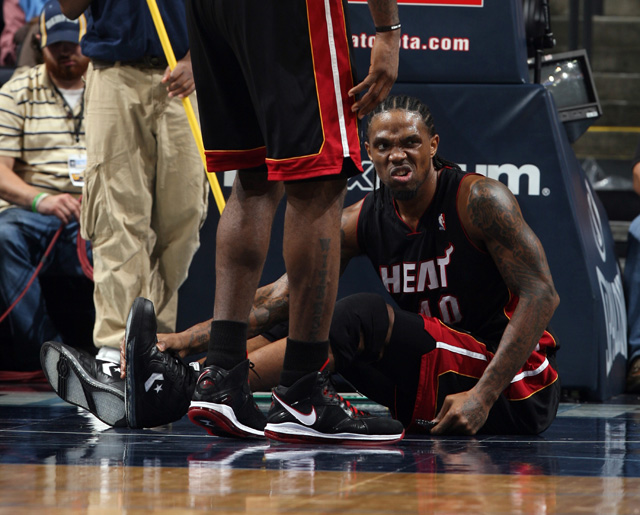 When the 2010-2011 Miami Heat were formed from the fires of overhyped free agency, there was one core condition to the fragile thin roster they put together around the three mega-contracts. Everyone had to stay healthy.
Hey, Riley! You got a Plan B, there, champ?
Ken Berger confirms
a
Miami Sun-Sentinel
report that
Udonis Haslem
will have surgery to repair his injured foot, leaving him out for "several months" which puts the Heat in a desperate situation down low. Haslem was the team's leading rebounder to this point, as well as the toughest low-post defender they had, and a competent finisher off offensive rebounds and the baseline jumper drop-off. Without him, the Heat are left with
Joel Anthony
, Zydrunas Ilguaskas, and (gulp)
Juwan Howard
as legitimate frontcourt minute-takers behind
Chris Bosh
. Those names aren't atrocious next to Haslem, but without him, the team is different. Different in makeup, different in lineup flexibility, different in skillset, and different attitude. Everything changes with Haslem out.
And with Haslem joining
Mike Miller
on the shelf, the next month and a half is going to be very rough for Miami, who already was struggling in trying to figure out how to play together to underwhelming results.
KB reports that the Heat will turn their attention towards Erik Dampier, who they previously said "Thanks, but no thanks" to. Dampier makes a ton of sense for this team, in need of a true center that can rebound, play defense, and not get in the way, but with injury issues of his own, you have to wonder if he's only a temporary solution until he goes down again as well. Meanwhile,
Dexter Pittman
continues to rot on the bench for no discernible reason behind Jamal Magloire and other members of the AARP.
The Heat will have to waive a player to make room for Dampier as their roster sits at 15, and Pittman is the most likely choice, even though he's a raw player that can bring youth, energy and a bullish attitude along with all that fat off the bench. Magloire may be in better shape but isn't physically capable at this point. But Erik Spoelstra's conservative, cautious ways mean that Pittman is the most likely last man out if the Heat elect to sign Dampier.
(HT:
Miami Sun-Sentinel
)