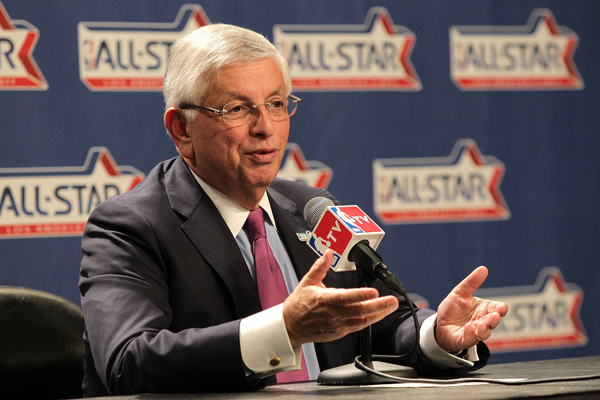 By Matt Moore
It seems weird doing a winners and losers list for a month in which nothing happened, right? I mean, the lockout's still on, no progress has been made, we're still well on track to lose games at least until January if not the whole season. If no negotiation has been made, how can anyone have won or lost? Much like the dispute itself, it's all in how you interpret the results and what your definition of "is" is.
Winners:David Stern:
Stern's appearance on ESPN's B.S. Report podcast
was a stirring display of his verbal tactics. Every criticism rebuffed, every accusation shook until it's rendered meaningless. He managed to come across as someone who very much wants to get a deal done, but hampered by the economic realities he and the owners are facing.
He admitted contraction is an option
, giving a scare to those who oppose it (and no doubt giving those in favor of more stars in bigger markets something to salivate over), while also saying New Orleans would not be a candidate. Basically, he said, our condition is bad enough to warrant amputation, but no, not that leg, it's totally fine. That one, too. It was difficult to walk away from Stern's interview feeling anything but a sense that he's on the fan's side, and while that's not true, he's on the owners' side 100 percent, that comes down as a win here. Plus, he fit a vacation in during a lockout. That's just impressive.
Kevin Durant:
Won the Drew-Goodman showdown. Continues to pour it on in every street park and Pro-Am he shows up for.
Talking to foreign teams
. Expanding his brand. Durant's done more than enough to bolster his reputation as a cold blooded killer during the lockout and is making himself into more of a name. He's backed up every endeavor with stellar play and has yet to be scored on by an Asian amateur. So he's got that going for him.
Kobe Bryant
: Nails a Drew League game winner after dropping 40+,
gave back to the video guys
who helped the
Lakers
win two titles,
Billy Hunter:
Hunter managed to avoid a coup by the agents in an attempt to force the union's hand into decertification. He's held the line and has gotten through another month without the players fracturing or panicking. This was largely a defensive month for the players, and Hunter's goaltending has kept the match scoreless, at least according to some interpretations. Of course....
Losers:Billy Hunter:
Hunter also has allowed for questions about the direction of the league to surface, loudly, and seemed to have gotten schooled when the league filed pre-emptively in court to cut off the union's NLRB and bad faith arguments. The problem with not overreacting to your opponent's move is you take some unavoidable flak from the extremists in your contingent who demand radical action. Hunter makes both lists for the same reason. He hasn't reacted either way to the developments of the past month. His motto right now is keep calm and look for work in Europe. Oh, but he did give us this bit of happy sunshine news,
he would bet on losing the season
. Which is like the Fed chair saying "I'm just saying, the whole thing's coming down."
LeBron James:
James
made fun of his hairline
, did a world of charity work, isn't headed overseas and is instead focused on next season whenever it is, and hasn't gotten into the negotiations. Now, you may think not getting into the negotiations shows a lack of leadership, but it should also be mentioned that any attempt to do so would be seen as grandstanding by James. He's not popular with the players, not popular with the owners, not popular with the fans, he doesn't win by getting involved. So how is he a loser? Because no one's going to remember the charity works or the self-defacing attitude. They're just going to remember him getting
dunked on by a Taiwanese player
. Oh, and
that he's scared of heights.
(Note: There is no way I'm jumping off that thing and not just because I can't swim.)
LaMarcus Aldridge:
LMA, you're not helping
. No one wants your debbie downer act, even though you're totally on-target.
The economy:
The NBA is a tiny slice of a big ol' pie going bad right now, but stuff like news that arena operators who aren't involved in the lockout directly
could lose up to a billion dollars
does show the depth and breadth of how this can affect every day business for thousands of people across the country.
Besiktas:
The Turkish club
failed to land Kobe
, hasn't secured Durant, still has questions about its funds, and oh, yeah,
players are talking about Turkey like it's third-world
. Not a great month for the Istanbul powerhouse.
Personal assistants:
Really,
you guys can't get a handful of schedules to line up
? Really? When you've known this was coming for months? Honestly?