The Boston Celtics are reportedly negotiating a multi-year contract offer with coach Doc Rivers. Posted by Ben Golliver.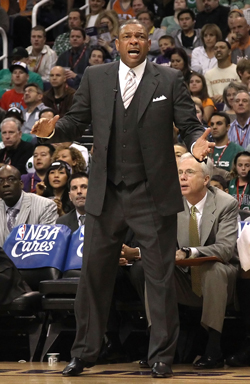 One day after the Boston Celtics were eliminated from the NBA playoffs by the Miami
Heat
,
the Associated Press is reporting
that the team is looking to secure coach Doc Rivers to a long-term contract.
A person with knowledge of the negotiations says the Boston Celtics and coach Doc Rivers are working on a deal that would keep him on their bench for multiple years. The deal is for "more than two or three years," the person told The Associated Press on the condition of anonymity because the details were still being worked out.
With an aging core and the rise of younger, more athletic competitors, it's no surprise that the Celtics are looking for a measure of stability. Indeed,
we noted earlier
that Celtics president Danny Ainge is considering major rotation changes -- such as sending
Paul Pierce
to the bench -- and admitted that he would trade one of Boston's Big Three if a favorable trade came along.
In other words, it could be a choppy few years for the team as it works to reload, and possibly rebuild. The good news: It's clear from
comments made to CBSSports.com's Ken Berger
that Rivers wants to stick around. For the Celtics, keeping Rivers in place would not only provide a steady, trusted hand but could also serve as a potential lure for free agents.
But, really, it's the continuity factor driving this decision. Locking up Rivers gives the Celtics a solid slice of an identity during what could be a major roster overhaul. Whichever players stick around will need someone they trust. Whichever players are brought in will need someone that carries a massive respect factor. Rivers fulfills both categories, so if a reasonable financial agreement can be worked out, why not?