Posted by Royce Young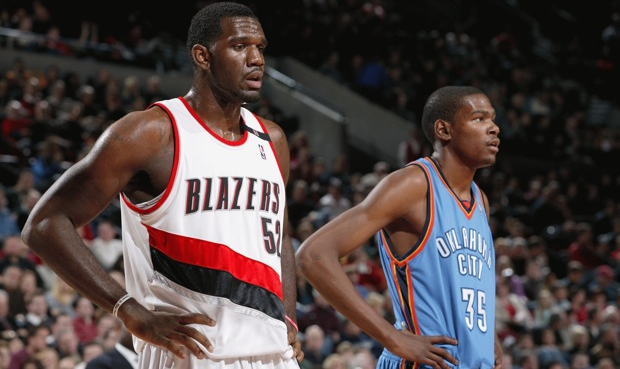 Sam Forencich/NBAE/Getty Images
When Kevin Durant was lighting up the Big 12 at Texas, I was in college at a different Big 12 school. I saw him play twice in person, and a whole bunch more because of regional TV coverage.
At that time, I had no idea what advanced basketball metrics were. I had no idea what eFG % or rebound rate was. If you asked me what "pace" was, I'd tell you that's the thing I do when I talk on the phone. I know those things now, but when I watched Durant tear apart the Big 12, I didn't need them to know that he was an other-worldly basketball talent. It was pretty stinking obvious to the uneducated naked eye that Kevin Durant could hoop.
So after both Durant and
Greg Oden
decided to leave college for the NBA draft, the debate over who Portland should take kicked into high gear. The traditional big man that could rebound and protect the rim for you and possibly be the bedrock for a championship team or the scoring savant that might have one of the finest statistical careers in the history of the game. Tough choice right there. And one that needed more information than just an uneducated eye test.
That's where the intangibles in basketball come in to play. You know, things like working out a player, checking his vertical leap, his speed running the court and how strong he is. Everyone freaked when Durant could put up 185 pounds a single time as if it was a sign he'd never be able to take contact in the lane or muscle in a 3-point play. But another measurement used was the exact thing casual folks like me didn't even know existed at the time: advanced metrics.
And lining up Durant versus Oden statistically, any way you sliced them, just wasn't fair. Durant's nightly box score was like looking at a work of art. It commonly read something like 11-17, 31 points, 14 rebounds, five assists. Oden on the other hand (who was playing without his dominant right hand, mind you) was a little rougher. A usual night for him was 12 points, 10 rebounds and three blocks. Plug those numbers in to any formula and it'll spit out something saying that Kevin Durant is the better basketball player.
Which is exactly what the Blazers' long time statistical consultant Jeff Ma did. And what did his numbers say? Take Durant.
"If people that use analytics to predict player performance in the NBA, using performance analytics, meaning what they did in college, and they tell you they had Oden ranked higher than Durant, they are full of crap,"
Ma told Ben Golliver of BlazersEdge in an interview.
"There are very few statistical measures that would have rated Oden's system in college better than Durant's. Oden was injured his entire career, that one season at Ohio State. He had to shoot free throws left handed, was not efficient, didn't have a great statistical season.
"Our numbers absolutely said they should pick Durant. It wasn't even close."
No spoiler alert needed, we all know what happened next. The Blazers selected Oden No. 1 overall, Durant went to the Sonics-now-Thunder and just like the Sonics move from the Pacific Northwest, both of their careers headed in entirely different directions. Durant finished last season second in the MVP voting and became the league's youngest scoring champ ever. Oden has played in only 82 games total over his first three years in the NBA.
Looks like the stat guy was right, right?
Well, I guess so, but not in that way.
One large misconception with advanced metrics is that they are the end-all, be-all in discussions. Because a guy has this plus/minus or that PER doesn't mean he's not a good basketball player. It's just part of the overall equation in evaluating talent. Ma goes on and tells Golliver exactly that:
"But that kind of decision is never that cut and dry. I would never want the Blazers to make the decision so cut and dry. The thinking they had was that this elite center is very rare and the ability to get that guy was staring them in the face and that's what they went after. The sad thing is that when you ignore the numbers, the numbers often tell you something regardless of what you're ignoring. The numbers in this case were ignored because Oden was hurt but what have we seen in Oden's career? A propensity to get hurt."
That's the rub right there. The numbers were altered by Oden's injury-plagued freshman season at Ohio State. And as Ma says, Oden has become a bit injury prone. But how could you possibly predict that? What does a broken wrist have to do with a busted knee? Nothing, in fact. Except that they both require a little bad luck, something Oden has had a lot of.
Oden was the "right" choice for Portland. He had the look of a cornerstone big man that you could build a championship caliber team around. The Blazers had scorers - they didn't feel they needed Durant. They needed that mythical big man in the middle. And you know what? Oden is just 22 years old (insert joke here about how old he looks) and nobody says it's over for him yet. He's still got time to prove Kevin Pritchard right, even if it's too late for Pritchard in Portland. Before his injury last season, he was looking pretty darn excellent. Now is he the caliber player Kevin Durant is? Probably not, but the Blazers probably knew that already. They weren't trying to draft an all-time great. They were trying to find someone to help them win.
The more Durant does, the worse Oden looks. It's not really fair, but that's the way it is. Call it Sam Bowie Syndrome if you want, call it Oden a bust, but it's reality. We have no idea what Durant's ceiling is, even after three stellar years. The roof may have already been placed on Oden's career.
Ma mentions that he figures two-thirds of general managers preferred Oden to Durant in the 2007 draft. Most everyone still agrees that Oden was the right choice. Now if Portland had to do it over, I'm sure they'd take Durant. But not just because the numbers said so. Because hindsight is, well, you know.