Cavs employ worst font in history of world for new floor. Posted by Matt Moore
Come on, Cleveland. You're kidding, right? This is some sort of inside joke? You're not really going to...
Let me back up. Let's say you, like most of America, are not into fonts. Typography isn't exactly riveting stuff. I'm no expert myself. But one that's pretty apparent from every graphic designer, copy editor, and artist I know is that Comic Sans is the single worst font to ever be created. It was part of what garnered Cavs owner Dan Gilbert such mockery when he dropped his letter about LeBron. Sure, you can go over the top and make James out to be the worst villain since the Joker, but you need to do it with a grown man font. Not Comic Sans. And yet, that was his option.
But ha ha, remember that time
Gilbert used Comic Sans to drop a tirade
on the King? Nice piece of trivia.
It's back. Like a bad batch of spinach, Comic Sans is being regurgitated in Cleveland. Via
Ball Don't Lie
,
the Cavs unveiled their new court today
and in one of the images, you'll notice the following: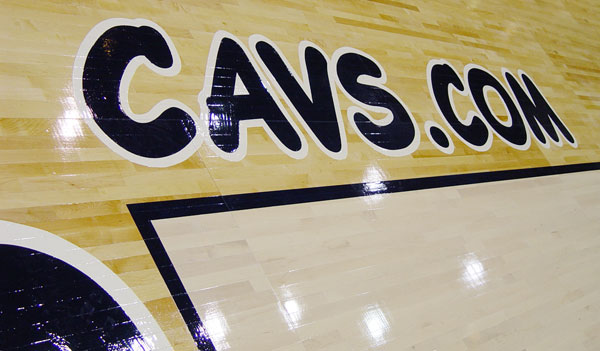 Jeez, Cleveland. Is that really necessary? I get the "If you've got it, flaunt it" but really? The fans are already suffering enough having watched you fail to surround the best player in the league with the talent to win a championship, and then fail to secure his services for the future, now you're going to punish them with this font being burned into their eyes on a nightly basis? Cruel, Cleveland. Cruel. Cleveland Masochists might make a better name.