Posted by Royce Young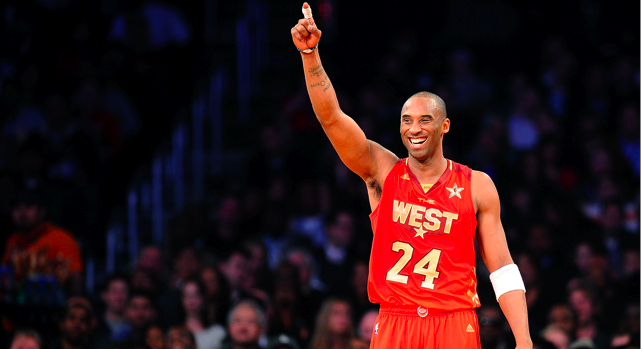 LOS ANGELES -- In Kobe's town, it was Kobe's night.
The legendary Laker piled up 37 points -- five shy of Wilt Chamberlain's all-time NBA record -- en route to his fourth All-Star Game MVP trophy (tied most all-time with Bob Pettit) leading the West to a 148-143 win over the East. On top of the 37, Kobe also pulled in 14 rebounds.
Following the game, Bryant said, "It's probably my last All-Star Game in front of my home fans, so it was special."
The game itself was pretty entertaining. While there was the usual sloppiness with 36 combined turnovers between the two teams, there were big dunks, fancy passes, a great halftime performance from Rihanna and a close finish. Pretty much everything you could ask for.
Some notes, quotes and observations from the Staples Center Sunday night:
Holy crap the stars were out. Pretty much every spare second the arena had it was showing someone of fame. One thing of note though: Justin Bieber had front row courtside seats while Jack Nicholson sat in the third row for some reason. The fact he was next to sports reporter Jim Gray was also weird, but the fact Nicholson wasn't in the seats that are named after him, was odd.
One other Bieber note and I'm moving on: The PA guy called him "Justin Berber" when telling the crowd he won the celebrity game MVP. I found that hilarious for some reason. Berber ferver!
Lenny Kravitz played the All-Star introductions and while we were all checking our watches to make sure it wasn't 1997, it actually was pretty solid. Probably not the perfect choice, but the NBA never whiffs on these type of things like the NFL. There's always at least a solid opening act and a good halftime act. The NBA does this stuff up right.
All three hometown players (Blake Griffin, Kobe and Pau Gasol) addressed the crowd before the game tipped. Griffin's speech was, uh, dull. How can you blame him though? After his weekend, he probably needed a nap. He said after the game: "I can barely move right now. I'm pretty tired."
All five Eastern starters did LeBron James' powder toss before the game. Nice one, LeBron.
My favorite moment of the game was Doc Rivers putting in all four Celtics with his first sub. The crowd totally freaked upon Kevin Garnett, Ray Allen, Paul Pierce and Rajon Rondo coming in. Slick move by Rivers, who never lacks in showmanship. Rivers on the move: "I thought that was beautiful."
Kobe had a couple of really, REALLY nice throwback dunks in this one. Like 2001 hops. He said after the game: "If you want to know the influence of Blake, just look at the dunks I had tonight."
Bill Russell was recognized for winning the Medal of Freedom, awarded by the president. And the Laker (and Clipper, I guess) fans were classy, giving the legend a good, long standing ovation.
Be honest: You forgot Joe Johnson was an All-Star at least five times Sunday, didn't you?
In a new NBA "big head" ad played in the arena, Chris Bosh and KD are next to each other in a pool and Bosh says "Feeling good Kevin?" Total coincidence? Or is the NBA pulling a funny one on us all here?
There were two different videos of players "auditioning" for a role in a new Spike Lee movie. Not the funniest thing ever, but one of those things where you grin the entire time and say, "Not bad" after it finishes.
The weekend was done up big for L.A. and I'd say it delivered. Friday night was as fun as it could possibly be with the Rookie game. Saturday's dunk contest was a blast, even if the props kind of water things down. And Sunday's game wasn't a classic by any means, but Kobe owned the game in his town, Blake Griffin dunked, LeBron threw up a triple-double (29-12-10) and
Kevin Durant
dropped in 34.
All in all, well done L.A.