Reactions from around the web on the Celtics' second close win over the Knicks in their first round playoff series. Is there a problem with Boston? Can the Knicks handle many more close losses? Are the Celtics worried at all?
Posted by Matt Moore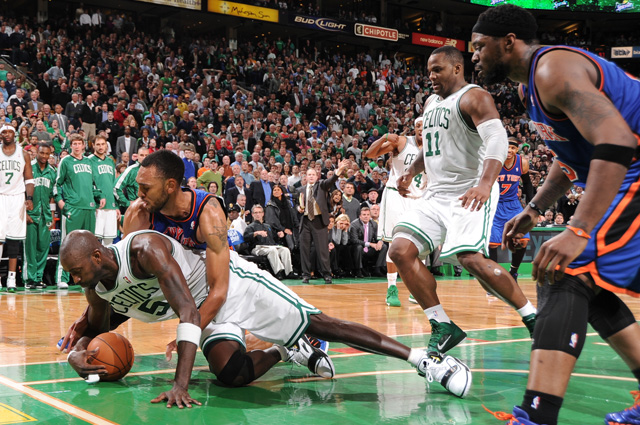 We begin with the Knicks' side:
Once more, the closing moments were a matter of inches in either direction, and the team with the edge in seasoning, personnel, and home court (and, if you want, late-game coaching. D'Antoni has been mostly fine, in my opinion, but Doc Rivers has been wizardly.) seized those inches.

The inches thing is what's haunting me, I think. I've always been fascinated (and tormented) by the infinitesimal difference between triumph and heartbreak in basketball, and tonight's biggest moments were, in fact, practically atomic. Look no further than New York's ill-fated final play, in which Kevin Garnett's hand occupied exactly the same slot of airspace as that bedeviling Jared Jeffries pass and his dive for possession grazed the last of the unpainted grains on the parquet floor. Those of you crushed by some decision from any party involved all have your reasons. Me? I'm going to lose sleep because something uncontrollable and imperceptible could have rendered the Knicks winners, but it didn't. Again.

Those tyrannical minutiae governed the game's final moments, but it shan't overlooked, not by those of us that care, how incredible it was that the Knicks even got there. I'm proud of them. You don't have to be.
via
Celtics 96, Knicks 93: "I'm crushed, but I'm still really proud." - Posting and Toasting
.
Put this into context. A woefully undersized forward-center was traded to Houston in order to make cap room to sign
Amar'e Stoudemire
which allowed for the team to become relevant enough to trade half their roster to acquire
Carmelo Anthony
, and in an effort to fill out the rest of the team, the same player traded to Houston was re-signed after a buyout was reached. That same player then scored the go-ahead bucket against one of the greatest defensive players of all time, off the dribble, at the rim, no less, then was backed down and summarily scored upon by said defensive player to surrender the lead. At which point this same castoff caught a pass from a violently doubled Anthony, and attempted to make the right play, passing to the cutting player behind him rather than going up and getting blocked by a longer, tougher, more experienced defender, again, the same defensive mastermind. In doing so, said defensive force manages to get his hand directly in the path of the ball, at once a brilliant stroke of defensive prowess and a terrifying example of just how wrong things can go when the simplest and best play is detonated by a single well-placed palm.
That's why the Knicks lost. It defines both Boston's ability to harness that infinitesimal level of effort and focus that determinses champions and the running theme that the Knicks just can't seem to catch a break no matter how much they improve. The first two games of this series have been decided by six points and yet the result is the same. 2-0 Celtics.
This one shouldn't have been anywhere near that close with Billups already out and Amare Stoudamire leaving the game early with back spasms. The Celtics are a few clutch plays away from being 0-2 but because they are the Celtics and they (usually) make those plays when they matter most, we're sitting on a 2-0 lead headed to New York.

More notes:


One reason it was so close: Knicks outrebounded the C's 53 - 37
I was very disappointed in the subs for much of the game - they gave up a 10 point lead in the first half and only contributed 14 points as a unit.
via
KG The Closer Shuts The Door - CelticsBlog
.
This is the kind of thing that makes you question the validity of how close these first round series are, with the underdogs playing so well. The Celtics are a terrible rebounding team, have been all year. But the Knicks should not be killing them on the glass this badly by any means. And the bench?
Glen Davis
was a sixth man of the year candidate until about February 27th. Did he just suddenly become a terrible player? Or is this a result of matchups, timing, and chance? Just as a few more things going their way would have meant a 2-0 series lead for the Knicks, a few things going normally for the Celtics would mean a more comfortable point differential for Boston in this series.
That said, if you're getting out-produced by the Knicks' bench? You have issues.
"I thought Rondo was aggressive," Kevin Garnett said. "He was overly aggressive tonight. Rondo played excellent on both ends."

In the opening quarter, Rondo repeatedly meandered his way through a thicket of Knicks the way a swift-moving river cuts through a mountain range. He went where he found the least resistance and, for a time, that was pretty much anywhere he wanted to go.

"Kevin and Paul (Pierce) got me great outlet passes and I attacked the rim," Rondo said. "I think I tried to attack in Game 1 but my layups were getting blocked and I didn't make a couple. Tonight I made them. I stayed aggressive and tried to expose them because I don't think they did a great job getting back in transition. They made an adjustment in the second half and I tried to go to my guys, Paul, Ray (Allen) and Kevin."
via
Rajon Rondo
drives this team - BostonHerald.com.
It was weird to see Rondo streaking out for catches of outlet passes, and that's a large part of what got the Knicks so off-guard about it. Rondo's almost always retreating to the backcourt to set the offense. He's usually patiently waiting for the right time to execute the play. But in the first quarter, he was just blistering guys in foot races and the result was a whole lot of layups.
It's odd that the Knicks can be so disciplined and well-conditioned in getting out in transition offensively, but can't translate those principles on the defensive end. It's one thing to struggle with half-court defense thanks to personnel, scheme and principles (like D'Antoni's forwards traditionaly leaking out early instead of pursuing rebounds which surrenders a lot of extra possessions which hurts the defensive numbers, an element often overlooked because we associate defense with effort). But transition defense whould be a point of proud and an easy translation for the personnel on D'Antoni's teams. They can at least hang with being bludgeoned to death. But letting the Celtics carve isn't going to work, not even in New York.
You could look at that stat two ways: that the Celtics held one of the best offensive teams in the league to a poor shooting night, or that the Celtics barely eeked out a win despite the Knicks shooting so poorly.

Both are correct.

"It was really good to get the win, but we're disappointed with the way we played tonight," said Paul Pierce. "We gave up a big lead and with the circumstances I thought we should have pushed the lead ... We shouldn't be satisfied with the way we played today. We've got a lot of things to clean up but hopefully we can play better when we get to New York."

Glen Davis put it simply, "We gotta play better if we want to be champions."
via
Celtics blog - Boston Globe basketball news
.
Maybe that's what's so confusing about Rondo's performance tonight. It was almost ineffective. It's easy to argue it won the Celtics the game, in terms of total effort, en masse. But you got the feeling that the Celtics were trying to send a message, to finish the Knicks early. Kick them in the stomach, throw them off the pier and be done with it for the night. But instead, the Knicks keep responding to Celtics' rampages with calm, cool, coollected responses. The Celtics have won two games on account of their ability to make the most out of a handful of possessions at both ends late, but they also need everyone they can convert. This series could go five games, but it's got the feel of a drawn out series in which the Celtics are trying to find themselves and keep coming up without answers.
On Sunday, Anthony was criticized for shooting a deep 3-pointer over a double-team with time running out. This time, he chose to pass and still walked away with a loss and facing more scrutiny.

"I made the right play," Anthony said. "The right play was to go to Jared."

Jeffries, who finished with 10 points and 6 rebounds, said that Garnett closed on him too quickly to get a shot up. But, he added, "I should have went ahead and shot the ball."
via
Celtics 96, Knicks 93 - Anthony Gives His All, but It Isn't Enough - NYTimes.com
.
Easier said than done when Garnett's breathing down your neck. The better option in this situation from a set standpoint would have been for Melo to make the pass to Jeffries, but when the defense collapsed, to reset to Melo. By that time Davis would have had to started to rotate back to his man, which would have provided an opportunity for Melo to go one-on-one for a few seconds with Pierce, enough to get the shot off. In general, I'm a big proponent of always working to create a good shot, versus just giving it to your best player and hoping for the best. But with the Knicks' roster, especially without Billups or Amar'e Stoudemire? Melo should have been their one, last, and only hope. Getting him open would have been more difficult than just saying so, but that's the best scenario. Instead, New York faces a must win in the Garden in Game 3.