The 2011 NBA Eastern Conference First-Round Playoffs roll on as we take a look at Sixers-Heat
Posted by Matt Moore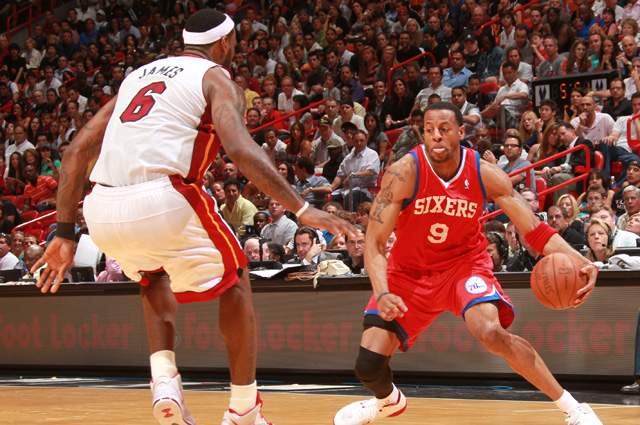 I. Intro
The Sixers are a nice story. They really are. Doug Collins pulled this team up by the bootstraps and once it got done punching itself in the face, it came together. They're a solid defensive team with some speed and youth at key positions. Pesky might be the word.
The
Heat
are the big story. We've seen them show flashes of brilliance, but those all came in-between prolonged periods of malaise and incoherence. Everyone wants to see if this team has that extra gear. It's assumed with great playoff teams. But this team doesn't have that experience, not together. How are they going to react to when the games start to matter? Will the sleeping giant awaken, or will the playoffs just prove to be yet another challenge the heat fail to pass with flying colors?
The Sixers are swamped in matchups thanks to the talent on the Heat , which is going to make tactical decisions that much more important. The Heat need to look great to get some confidence. The Sixers just need to hang.
II. What Happened: A Look at the Season Series
The Heat crushed them. I mean, killed them. It was a slaughter. The Heat
averaged a 109.2 offensive efficiency
and allowed just a 98.3. That's pretty impressive for the Heat/terrible for the Sixers on both sides of the ball. They outscored the Sixers by an average of 10.3 points, and shot 47 percent.
There is some context, though, here. The Sixers had a horrific start to the season, and two of the games in the season series were during that span. The third game was in late March when the Heat were at their strongest and the Sixers were cooling down. So we haven't really seen the Heat play the Sixers except when the Sixers were a mess. Philadelphia did manage its closest efficiency differential in the second game, when they were starting to figure things out, losing by just nine. All in all, the Heat definitely have the upper hand in this matchup, but the first glance doesn't tell you everything you need to know.
III. The Easy Stuff: Dwyane Wade is a problem
Wade averaged 25.5 points, 6.4 rebounds, and 4.6 assists this season overall. Against Philadelphia, he averaged 30.7 points, 8.0 rebounds, and 6.7 assists. That's a one-man wrecking crew. The Sixers have no one to guard him, in reality. Not without going into a flex-big lineup with both Iguodala and Young on the floor, but that rotation hasn't played much together this season. The Sixers did use that lineup in the three games agianst the Heat, but that was really where Wade killed them.
Looking at the Game Flows from
Popcornmachine.net
, the Sixers had their worst problems with Wade when
Lou Williams
was guarding him. This is problematic, as Williams is their truest shooting guard with any scoring impact.
Jodie Meeks
on the other hand held Wade to his two lowest-impact quarters. Even rookie
Evan Turner
did decent work against him.
Andres Nocioni
should not see any floor time in this series, but you probably knew that. He will.
Wade's a stellar player, but his biggest game was a 39 point effort in March. In that game, his two biggest quarters were the 2nd and 4th, where he dropped 37 of his 39 points. In those two quarters, Meeks played just under eight minutes total. Meeks needs to be central part of the Sixers' defensive design or Wade's going to slice them into little tiny pieces and eat them with Sriracha.
III. Secret of the Series: Help, (the Sixers) need somebody, help, not just any body
According to Synergy Sports, in the Sixers' best effort against the Heat, Philadelphia brought help or committed to the ball handler on the pick and role 22 of 29 times, or 76 percent. In their other losses, the Sixers only brought help 29 of 52 times, or 56 percent of the time. In the Sixers' best effort against Miami, the Heat ran 28 Isolation plays, versus 34 combined in the other two games. You getting the pattern? This sounds simple, make the Heat get out of their offense, right?
But what it means is that the Sixers need to commit to help defense, even if it exposes them to open jumpers. If they bring help on pick and rolls and on James and Wade in Isolation, that means there will be jump-passes to wide open threes from
Mike Bibby
,
James Jones
,
Mike Miller
, and
Mario Chalmers
. Fine. You live with that. The Sixers don't need to have a
Celtics
-like commitment to defensie principles. If they make mistakes in over-helping that leaves them unable to rotate, that's fine. Just keep the Triad in front of them. Making mistakes are fine as long as they're the right mistakes. The Sixers' offense is going to struggle. There's just no way around it. The Sixers' best shot is making the game into a defensive grind, keeping it close or making a late run to make it close, then try and push for transition buckets off of Heat miscommunication.
But to do that they have to bring help, a lot of of help.
IV. The Dinosaur Narrative: "WILL LeBron James WILT IN THE PLAYOFFS AGAIN?"
Last year's playoff series still lingers in people's minds. They remember the way James appeared to capitulate to the Celtics, to abandon his team. So now he's been branded with this narrative.
The Sixers are not the Celtics. And furthermore, it's not like James has never won a playoff series. He's got a strong history of success in the playoffs, albeit without the "biggest" of series, which is always the last one you play. But trying to extrapolate James' struggles against the best defense in the NBA over the past three years into a narrative about his relative success is overblown. We're not talking
Tracy McGrady
, here. James has done his fair share of blowing first-round teams off the map, and the Sixers are likely to be next. V. The Line-Item Veto: Who has control in each matchup? Quick, line by line. Ex. SG: Dwyane Wade versus Jodie Meeks isn't really fair. Meks has good length but Wade is just... Wade.
VI. The Line-Item Veto: Who wins each matchup?
PG: This could be
Jrue Holiday
's coming-out party. Bibby's not nearly fast enough to stick him, and Chalmers isn't aware enough to watch him off-ball. Problem will arise when the Heat go no-point, and he has to defend Wade. Doug Collins will be making a lot of subs in this series.
SG: We already talked about how Meeks can have an impact on this series. But c'mon. It's Dwyane freaking Wade and he dropped 30 per game on this team.
SF: Andre Igoudala seems like a really nice guy, doesn't he? Great leader for Team USA this weekend. /whistles ... It's LeBron.
PF: Split. Bosh is better offensively, but
Elton Brand
may eat him alive on the boards. If Brand goes way-back-machine mode, the Heat may have to send help. That starts trouble for the Heat, even as mediocre as the Sixers are from the perimeter (15th in 3-point percentage).
C: Doesn't this feel like a matchup where both teams fans are going to look at the other center and go "Man, I wish we had that guy!" only neither center is really good? Hawes gets the edge here, but if
Joel Anthony
keeps playing like he has lately, he might get the push.
Bench: Sixers win this one strong.
Thaddeus Young
has been a sixth-man of the year candidate, and the Sixers have the fourth best bench in the league,
according to Hoopsstats.com
.
Coach: Well, considering Doug Collins is a Coach of the Year candidate and Erik Spoelstra had to put a marker on his parkig spot to make sure no one took it before he was canned, I think we're going to give Collins the advantage here.
VII. Conclusion
There's not a tougher series to peg. Know why? You know what to expect out of every team in the playoffs except Miami. Denver may be outmatched, but they'll bring it. The
Pacers
are out of their league, but they won't just roll over and die. The Celtics are in disarray, but you know they'll be mentally ready. Same with the
Lakers
. Miami? They could sink the Sixers' battleship in the first game and never let them recover. They could lose the first game. They could start strong then get lazy. There's just no way of predicting this team's effort game-to-game.
I flipped on this prediction six times. I started out with your standard 2-2-2 6-game set. Then I went all wacky and went to a seven game series with fans and media talking about how terrible the Heat are, and could they lose in the first round. Then I walked it back to a sweep. Then back to a six-gamer. Then I thought maybe a gentleman's sweep (5 games, you give 'em one out of being polite). But I keep coming back to that Heat team that lost to mediocre team after mediocre team this season. Except Philly. Which either means the Sixers have no chance or they're due. I have absolute faith in Miami winnning. I just have no faith in them winning comfortably.
Prediction: Heat in 6.

VIII. CBSSports.com Video Preview
Can the Philadelphia 76ers contend with the all-star talent on the Miami Heat when they face off in round 1 of the NBA Playoffs? Ian Eagle and Ken Berger breakdown this upcoming playoff matchup.