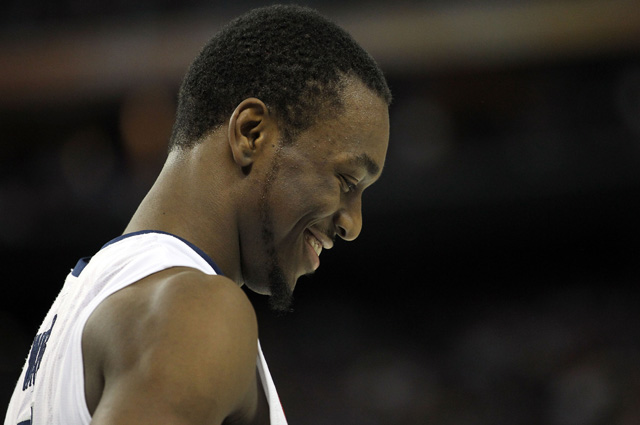 By Matt Moore
I wasn't big on
Kemba Walker
as a prospect last year, despite all his success. And I wasn't big on Walker pre-draft because of the same concerns plus his size. But as time has gone on and I've went back and watched more of his work last year, you can see why some scouts had him so high. Walker's got great quickness, handle, and scoring ability. That should be enough to keep him on the floor in some capacity in the bigs. Trying to predict draft pick defensive potential is impossible given the sharp curve they face and the change in fundamentals from one level to the next. Walker has all the pieces to put it together.
We'll talk more about Walker, but first, we interupt your regularly scheduled analysis to bring you this video of Walker going coast to coast in the Dyckman Pro Am this weekend. Ba-boom:
Nice, Kemba.
One thing that switched my head around on Walker is this piece from NBA Playbook, talking about his ability to work in an area that is seldom used in college: the pick and roll.
When Walker is looking for his own shot coming off of a ball screen, he is a very dangerous player. He does a good job of creating space for his shot, but what makes him really special is his ability to get to the rim when coming off of a ball screen. Walker was in the top 15% of all college players (in terms of PPP) when taking it all the way to the rim coming off of a ball screen drawing a foul 33.3% of the time (Basically, every three times Walker attacked the rim off of a screen, he went to the free throw line).

What makes Walker so tough to cover when coming off of a ball screen is that he has a combination of quickness and shooting ability. Walker is a good enough shooter that if you go under the screen, he is going to pull up and knock down the jumper. This means that defenses need to try to go over screens while hedging. Walker is simply too quick and is able to take advantage by driving by the hedge man and getting into the lane (while not shying away from contact). Finally, he is good enough with the ball that he won't turn it over often (only turned it over 3% of the time when attacking the rim).
via
Draft Pick Scouting Report: #9 Kemba Walker | NBA Playbook
.\
How do you neutralize a size disadvantage? Be quicker than everyone else and be able to effectively use ball screens. Walker's not an elite level of fast in the NBA, especially not when compared to other elite point guards. But he's got great quickness and a knowledge of the floor. His curve to learn how to operate an offense at the next level isn't as sharp because of his experience. He's going to have to learn when to shy away from the shot and how to distribute to other players, but that natural scoring instinct will translate, and if he's efficient enough, that will keep him on the floor.
Maybe I was wrong on Walker this whole time. We'll have to wait and see.
Emphasis on "wait."
(HT:
PBT
)