BYU guard Jimmer Fredette says that he is the people's choice in Utah. Posted by Ben Golliver.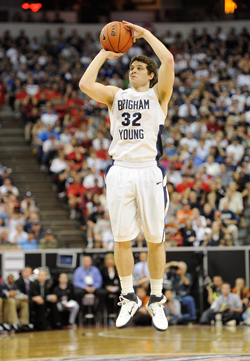 As a big-time scorer for BYU, guard Jimmer Fredette became a household name nationwide. But that level of fame pales in comparison to his standing in Utah, where he's a true phenomenon. Indeed, local pressure on the Utah
Jazz
to draft him and keep him within the state's borders has been immense for months.
Fredette isn't bothering to pretend that he can't hear those voices.
Speaking to the Deseret News
at the Chicago pre-draft combine, Fredette made it clear that he knows he's the people's choice.
"That's what the people want," Fredette said of being drafted by the Jazz. "But I don't think (Jazz officials) should make the decision on what the people want. They ought to make a decision on what they think is best for their personnel. If I go there, it's great. If not, I'll be somewhere else. So I'm just looking forward to where it's at."
He even talks like a larger-than-life phenom. "The people." It's like he's delivering his pre-draft interviews from on top of a mount.
On the bright side, at least he didn't say: "The people want The Jimmer."
Anyway, Fredette signaled that the Jazz are interested in drafting him, telling the paper: "They definitely like me... I know they're definitely interested. So we'll see how it goes."
Fredette also noted that he will work out for the Jazz and that he has received positive reviews from the Phoenix
Suns
and Indiana
Pacers
as well.
Given that Utah holds both the No. 3 pick and the No. 12 pick and that the team needs a new face of the franchise after trading All-Star point guard
Deron Williams
to the New Jersey
Nets
, there's a decent chance that "the people" get their wish on this one.