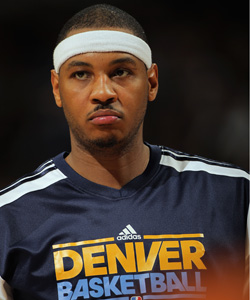 By Matt Moore


Carmelo Anthony
was traded after the
Knicks
had already visited the Pepsi Center last season, which meant there was no return for him as a Knick to the city he was drafted to. If we do get a season, a report out of New York says when he'll be making the trek back to the Rockies.
From the
New York Post
:
According to a person debriefed on the Knicks' 2011-12 schedule, the club embarks on a West Coast trip in November and will play a snazzy, nationally televised back-to-back, facing the Nuggets Nov. 16 on ESPN and the Lakers at Staples Center Nov. 17 on TNT's Thursday night showcase.
via
Knicks' western trip in jeopardy - NYPOST.com
.
Now, of course with the lockout, that means we could easily miss that Nov.17th date which will be less than 21 days from the start of the season. That would mean Melo wouldn't return to the city he cajoled his way out of until 2012, possibly 2013. Traded in February 2011, may not return until as late as April 2013. That's pretty crazy.
But if we say the season does go on, what kind of atmosphere should Melo expect? The
Post
expects a Cleveland-LeBron-like response, which is probably a bit much. Melo wasn't as much of a star in the NBA or in Denver as LeBron was in Cleveland. His circumstances of departure weren't quite as dastardly (even if you think about it, he may have made them worse as he basically held the team hostage for six months, but no one wants to talk about the possibility of anyone being worse than LeBron). And Denver doesn't have the baggage Cleveland does. So while Melo will definitely get his fair share of boo birds, its hard to see it being the same kind of "we need security" situation that James' return to Cleveland was.