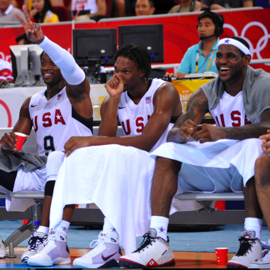 Posted by Royce Young
Already, a number of high-profile players are committing to the 2012 Olympic games in London.
Dwight Howard
said he wants in.
Kobe Bryant
said he plans to play.
Kevin Durant
has already made it clear he's ready to be on the team.
Well, add
LeBron James
to the list.
LeBron told ESPN.com
that he wants to be on the team if Coach K will have him.
"I would love to be a part of that team," James said. "If (coach Mike Krzyzewski) needs me to be a part of that team, I'm available. Hopefully I'm healthy enough to be a part of that team. Coach K has my number."
However, LeBron's two running buddies didn't commit.
Chris Bosh
and
Dwyane Wade
both cited that the games are a a couple years away and they weren't ready to box themselves in to it quite yet. Understandable, of course, but a little weird considering some of their former 2008 teammates aren't having any problems joining up early.
(An aside: How crazy is it that we're talking about three guys potentially being on the Olympic roster
all on the same team?
That's just pretty much insane. It's hard enough to be considered one of the 12 absolute best players in the league and to fit on to that roster, yet the
Heat
might have three guys.)
The 2012 team is going to be an interesting one. Coach K and Jerry Colangelo really seemed pleased with the makeup of the 2010 World Championship squad, but of course adding in Kobe, LeBron and Dwight Howard will force out some of those. Then if Wade and Bosh join, plus
Chris Paul
,
Deron Williams
and whoever else, this team will likely have a similar look to the 2008 Redeem Team plus Kevin Durant and
Derrick Rose
.
But LeBron will be taking his talents to London in 2012. To be determined if his other two heads will join him.