Posted by Royce Young
A little over a month ago, I remember writing about this pair of shoes that make people jump higher. But not because some ad campaign says so or because you pump up a basketball on the tongue of the shoes. Like these kicks
literally
make you jump higher. How? Because there's a spring in the sole.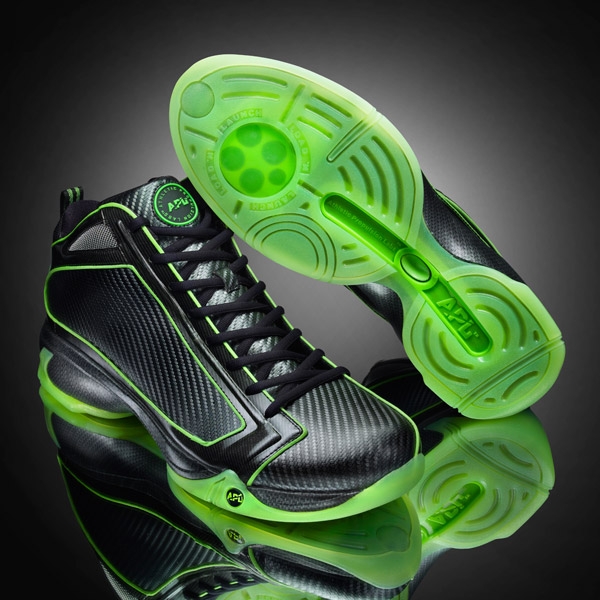 The company Athletic Propulsion Labs has developed the shoes called the "Concept 1's" and they're going to retail at a cool $300. The technology is what they're calling "Load n' Launch" in the forefoot of the shoe that is basically a springboard. APL claims it will increase a vertical leap by three and half inches and in some cases, more.
And treating the shoes like they're vertical leap steroids, the NBA has banned them. From a press release:
For the first time in its 64-year history, the National Basketball Association (NBA) has banned a new line of shoes based on the league's rule against an "unfair competitive advantage" that increases a player's vertical leap. The league's ban on Athletic Propulsion Labs' Concept 1 confirms the company's claims that the shoe, with its Load 'N Launch (TM) Technology, performs as advertised. No professional player will be allowed to wear the product in games for the upcoming 2010-2011 NBA season.

This action comes on the 25th anniversary of the NBA's ban on Nike's Air Jordan shoes, albeit for reasons of their colorful appearance rather than any performance advantage.

Athletic Propulsion Labs (APL) was notified by a senior NBA official who stated, "League rules regulate the footwear that players may wear during an NBA game. Under league rules, players may not wear any shoe during a game 'that creates an undue competitive advantage (e.g., to increase a player's vertical leap).' In light of that rule...players will not be permitted to wear the APL shoes during NBA games."
Sports Illustrated's Chris Ballard tried the shoes in September
and based on his highly non-scientific lab results, they work. Well, to some degree. Ballard said he felt like maybe he got a little extra, but the other test subject said he felt a significant difference, saying that he's never been able to dunk with two hands before using the Concept 1's. So it's possible they really do enhance a vertical leap.
Ballard said he played in the shoes five times and tested them out on a wide range of other players. Some jumped higher, some didn't. The results were a little mixed. And likely mixed enough that might make someone hesitate in dropping $300 for a pair of sneakers.
The concept of the Concept 1's isn't anything new. People have been trying to figure out how to make athletes jump higher for forver. Everyone remembers the Seinfeld episode The Jimmy (two Seinfeld references in one day? Yep, and I apologize) where a guy named Jimmy wears some pretty funky looking shoes that force you to walk on your tippy-toes. And in the show, he claims the kicks have made him jump through the roof.
A friend of mine is a workout junkie and he's tried wearing a form of strength shoes to attempt to strengthen his legs and calves. Just like any other weight training program, it works some, but increasing vertical leap typically comes from a lot of hard work. You can buy some vibrating stomach wrap that's supposed to give you six-pack abs, but really, you're only going to get what you want by working hard in the gym. And it's likely these shoes are in that same category.
And while the APL's won't be appearing in the NBA, you'd think a ban from the premier jumping sport on the planet would be devastating for business. But in reality, this is the best endorsement the company could get. Because by banning the spring-loaded shoes, in some way the NBA's acknowledging the shoes might actually work.
Already on the company's website,
that's exactly how they're marketing them - "Banned by the NBA" it says.
Ballard's feature doubted the new shoes because of some very non-conclusive results. (If you read Ballard's story, he even called the new tagline of "Banned by the NBA." Impressive.) That might've been a bit of a PR hit for the company, but today's ban is a godsend. The NBA probably did the shoe company the biggest favor it could by telling its players they weren't allowed anywhere near them. How ironic.