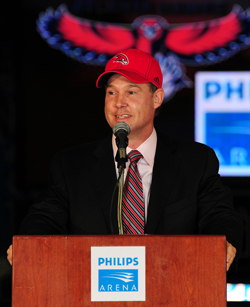 Posted by Royce Young
A week ago
, the sale of the Atlanta
Hawks
to pizza tycoon Alex Meruelo appeared to be in serious jeopardy. Friday, the deal officially fell through,
according to the Atlanta Journal-Constitution
.
Los Angeles businessman Alex Meruelo's deal to buy the Atlanta Hawks is off.

The agreement between Meruelo and current Hawks owner Atlanta Spirit Group, signed in early August and contingent on NBA approval, was terminated by mutual agreement Friday, The Atlanta Journal-Constitution has learned.

The development came after the deal stalled in the NBA approval process over the past month, as previously reported by the AJC.
So who owns the Hawks now? The team remains in the hands of Atlanta Spirit -- a business group led by Bruce Levenson, Ed Peskowitz and Michael Gearon Jr.
The original deal fell apart after the NBA required "economic conditions" that were not part of the original deal. Read: more money.
Meruelo confirmed to the AJC that the deal was indeed off and issued this statement:
"I want to thank the Atlanta community who welcomed me with open arms. I am humbled and blessed by their warmth and hospitality. Basketball is my passion, but professional basketball is a business. Although all parties negotiated in good faith, we were not able to reach a mutually satisfactory agreement on some key issues given the current uncertainty surrounding the labor issue. As a result we mutually decided to terminate the deal effective immediately. I have great respect for the owners of the Hawks and the league and remain committed to fulfilling my dream of owning an NBA team. I look forward to that opportunity in the future."
Clearly the Atlanta Spirit group is still looking to sell the team, but it's about finding another buyer. Then again, who would want to buy an NBA franchise when OBVIOUSLY it's a death sentence to lose millions of dollars? Why would anyone want to spend the money for a franchise when as demonstrated by this lockout, you're in for major losses? Huh, who'd want that?
Oh that's right, pretty much everybody.