Posted by Royce Young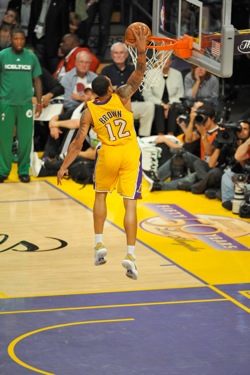 Blake Griffin
has pretty much taken over the NBA over the first couple months of the season. Every night people just wait for his latest highlight. So naturally it seems like he's a perfect fit for the dunk contest in Los Angeles during All-Star Weekend.
He's got the buzz around him, he's got the dunking ability and he's got the game in his team's hometown of Los Angeles.
Griffin has already said he'd be interested. "That would be cool,"
Griffin told NBA.com.
"If it's something that the league wants me to do, I'll probably try to do it."
According Chris Tomasson of FanHouse via Twitter,
Griffin hasn't heard anything yet from the league. But if he's truly willing, you can pretty much guarantee he'll be there.
Another high-flyer that doesn't garner near as much attention is Indiana's
Josh McRoberts
. If you've been paying attention this season -- really close attention that is -- you'd have seen a few pretty terrific aerial manuevers from McRoberts.
So McRoberts is firing up a little video campaign
to try and get in.
Assuming
Nate Robinson
doesn't try and enter and ruin the dunk contest again, who else could be a candidate? Griffin is a lock, McRoberts is a long-shot unless he puts together some kind of award-winning video. Here's five others that could get consideration.

1. DeMar DeRozan:
He got in last year during the "Dunk Off" in Dallas, but didn't seem totally prepared for the contest. The guy can absolute finish with the best of them
as showcased with his cram against Charlotte.
Given the opportunity, I'm sure DeRozan wouldn't disappoint again. He's a power finisher with a bit of
Vince Carter
style mixed in.

2. Russell Westbrook:
Westbrook is a candidate a lot of people are mentioning and he's said he could possibly be interested. He was part of a fan vote his rookie season but lost out to
Rudy Fernandez
. Westbrook though said while he'd think about it this year, he doesn't know if he'd do it because he admitted he's not a great contest dunker. Which is true. Westbrook is one of the premier in-game dunkers out there, but I don't know how much flash he'd be able to come up with if he doesn't have
Shane Battier
standing
there to dunk over.
3. Eric Gordon:
The loser in last year's "Dunk Off" to DeRozan, Gordon is one of those inconspicuous dunkers. He doesn't look like he'd have the abilty to rise and finish, but he absolutely has some hops. He's a sentimental favorite since the contest is in Los Angeles, but Griffin's inclusion might snub him. Still, he'll at least be considered.
4. Derrick Rose:
Last year, Rose was rumored to potentially be in, until bowing out of consideration. But I'm tossing him in here because he would be a really interesting competitor in it. He's a straight line player and while he looks flashy, he doesn't play with a ton of flash. But everything he does has a little extra accent on it,
so even a standard two hand jam from him
would look a little cooler than everyone else's.
5. Shannon Brown:
Brown's performance last year was a pretty large disappointment. A viral fan movement is what got him included in the first place but once he was there it was like he didn't know what to do. He almost looked scared to really bust anything out. I think he needs another shot. Now that he's been in it and knows what to expect, I feel like he would blow us away. His leaping ability is downright scary and of course there's the natural inclination to put him in because he's a Laker and this is in, you know, Los Angeles.