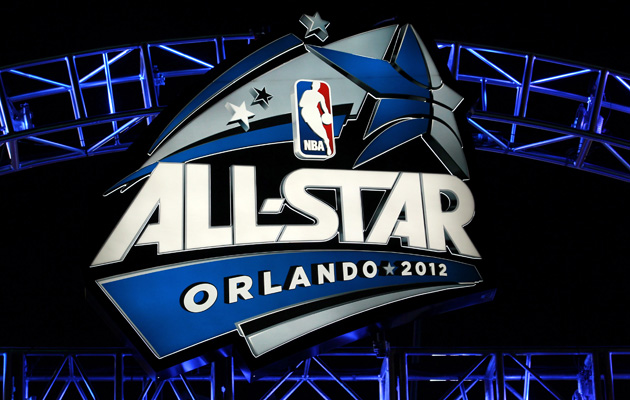 All-Star Saturday night is happening, which is exciting, for all of us, really.
(Getty Images)
It's All-Star Saturday Night, when the best, or at least best with respect to relative health, come out to shine under the bright lights and other cliches. The Skills Contest, the 3-Point Shooting Contest, and the Slam Dunk Contest take place Saturday night, and we'll have updates to all the events and highlights here. Consider this your home for All-Star Saturday Night.
You can follow us on Twitter
@EyeOnBasketball
, and follow our guys on the ground in our
All-Star Saturday Night Experience
.
Haier Shooting Stars: Let's be honest, this is like the opening band you don't show up for.
Your contestants:
Team Orlando:
Jameer Nelson
, Marie Ferdinand-Harris, Dennis Scott
Team Atlanta:
Jerry Stackhouse
, Lindsey Harding, Steve Smith
Team New York:
Landry Fields
, Cappi Pondexter, Allan Houston
Team Texas:
Chandler Parsons
, Sophia Young, Kenny Smith
Winner: TEAM NEW YORK:
Allan Houston still has it. The man downed two half-court shots and team New York cleared the final round in 37 seconds. The fact that Kenny Smith and Allan Houston are still better shooters than any of the Milwaukee
Bucks
is a bit distressing.
From Royce Young of CBSSports.com:
A reporter asked Allan Houston if he's in such good shape where he could almost -- "Stop. Stop it right now. This was fun ... It feels good to have a uniform again, but that's about it. That's about the limits if it." Then Landry Fields jumped in saying, "He's not taking that uniform off tonight."
Taco Bell Skills Challenge: Please don't hurt yourselves, you're basically your entire teams
Russell Westbrook
Rajon Rondo
John Wall
Deron Williams
Tony Parker
Winner: Tony Parker:
Kyrie Irving
was basically terrible. Rajon Rondo outid Russell Westbrook with a great time in a run-off round, then both Rondo and Deron Williams went on a brick fest on the mid-range jumper. Parker breezed to a win. The effort in this wasn't the worst thing you've ever seen, provided you've seen the Washington
Wizards
play this season. Williams didn't win, but he did have the fastest time on this run:
Foot Locker 3-Point Contest: If James Jones win, we're going to spit
James Jones
Kevin Love
Ryan Anderson
Kevin Durant
Anthony Morrow
Mario Chalmers
Winner: Kevin Love in an upset!
Love found himself in a shoot-off with Kevin Durant after tying him in the final round, and then bested the scoring leader 17-14. James Jones made it to the final round and had a pretty low bar of 16 to best, but couldn't get it done, dropping just 12. A dominant rebounding power forward just won the 3-point contest. Boom.
Click here for video highlights
.
Sprite Slam Dunk Contest: You don't know their names, but maybe that means they can only exceed expectations
Paul George
Derrick Williams
Chase Budinger
Jeremy Evans
Winner: No one.
It was very likely the worst dunk contest of all time
. Jeremy Evans did win, in a contest that featured him making a straight reverse dunk with a camera attached that no one got, and dunking over Kevin Hart dressed as a mailman while wearing a Karl Malone jerey. The coolest dunk of the night was Paul George in the dark. Goodnight everyone, and may God have Mercy on our souls.