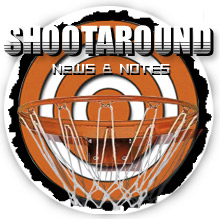 Bobcats aggressively looking to move Damp, the Magic's new arena is smarter than you, and Oden's progress going slow. Posted by Matt Moore
The Bobcats have what their GM is calling "
probably one of the most valuable contracts in the league
" in
Erick Dampier
. Dampier's contract is a non-guaranteed, voidable deal for $13 million, meaning a team can dump one or several players for Dampier, then waive him and clear off money immediately. If the Bobcats can find a taker, they might be able to solve some of their considerable problems. Like the fact that they have no viable point guard in place. You know.... that.
Speaking of valuable partially guaranteed expiring contracts, Magic Basketball
takes a look at whether
Vince Carter
can be moved this season by himself for a wing upgrade. The prospects are not great.
Most new arenas are nice. But the Magic's
new arena is smart
. They're able to target advertising in real-time, flexible responses, and the ticket systems can load cash for concessions if ticket gift-givers want to provide a meal along with the basketball.
There's an unwritten rule, one that should be written for a lot of first-time credentialed press members from team blogs, that you don't root in the press box. Unless, apparently, you're
abroad for an international competition
.
Samuel Dalembert
is
not so much a fan of the Canadian national team's coach
. Okay, that's kind of an understatement. To say that he pins all their problems on Leo Rautins would be more accurate. Dalembert has had a year with what happened in his home country of Haiti. This is just one other failure he's venting about.
Greg Oden
will
not be in attendance
during team scrimmages this week. I know, you're shocked. Try and lay down for a bit to deal with this news.
Antoine Walker
has actually been invited
by a real life NBA team to participate in some practices and scrimmages. The Bobcats have made no assurances he'll make it even to camp, though.
Andre Iguodala
reflects on the entire FIBA World Championship
experience and winning the gold.
Guess who's available? Pops Mensah-Bonsu!
Contract rescinded, back on the street
, ready to come in and play five or six minutes at a time with rebounds and missed dunks at your disposal. Kidding aside, Bonsu's a solid bench player that deserves a run.
The NBA just inked a deal
with a Spanish bank for $100 million for sponsorship
across the NBA, WNBA, and the D-League. That's a pretty big chunk of change. The league keeps talking about losses, and keeps ratcheting up big deals.