Posted by Matt Moore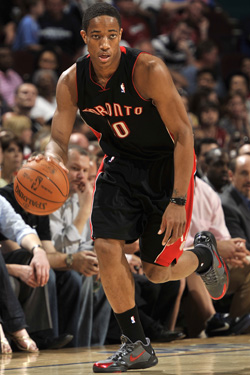 There's little but ruins left in Toronto with Chris Bosh gone. Bryan Colangelo managed to keep his job, as did Jay Triano, and the cast of characters remains largely the same. The goals have shifted, with the future now being the primary consideration as Colangelo has started shedding salary (including Hedo Turkoglu) and locking up younger talent. Training camp could be nice and relaxed. It could be a mess. There's no way to tell. But we'll try and get a feel for where things stand in our next edition of our Preseason Primers .
Training camp site:
Toronto, Canada />
Training camp starts:
September 28th
Key additions:
Leandro Barbosa
(trade),
Linas Kleiza
(free agency),
Julian Wright
(trade)
Key subtractions:
Chris Bosh (Pat Riley), Hedo Turkoglu (trade),
Antoine Wright
(free agency)
Likely starting lineup:
Jarret Jack (PG),
DeMar DeRozan
(SG), Linas Kleiza (SF),
Amir Johnson
(PF),
Andrea Bargnani
(C)
Player to watch:
DeMar DeRozan. Andrea Bargnani will be under the most pressure, but DeRozan has the highest ceiling to improve. DeRozan flashed great athleticism last season and showed off an improved finesse game at summer league. He'll need to capitalize on his entire game in camp if he wants to set the tone of himself as the future for the franchise and give them something to build on.
Chemistry quiz:
This team did not seem to like each other last season. Whether that was the pressure of the Bosh scenario, we don't know, but they're going to need to click more this year. Particularly, the team doesn't communicate on defense. At all. It's like radio silence. The jury is not just out on Jay Triano, it's in a pretty fierce debate at the moment. Nothing has been introduced to show that Triano gets through to this team in any capacity.
Camp battles:
Jarret Jack and
Jose Calderon
may get in a knife fight. Linas Kleiza and Amir Johnson probably will get into a knife fight.

Injury issues:
Ed Davis
is out after a meniscus injury. Calderon had some bumps and bruises, but in general, the team is young and healthy. Barbosa is trying to come back from not just injury but personal issues last year.
Biggest strength:
Bucket-getting. The team can score, that's for sure. Bargnani can hit from anywhere on the foor, with touch and range. Amir Johnson can crash the boards on the offensive glass. Calderon still has a jumper in him. Barbosa is still fast. They can run and they can score and that's pretty much the extent of what they can do.
Glaring weakness:
They couldn't stop a corpse with a flamethrower. Their defense is pretty much like the Death Star. Sure there are tall structures, but in reality, you can just fly in, do your business, and get out.