Los Angeles Lakers guard Shannon Brown has opted out so that he can enter free agency. Posted by Ben Golliver.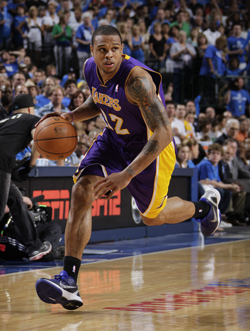 It's been a fairly quiet summer for the Los Angeles Lakers roster-wise. With one exception, that is.
The Los Angeles Times reports
that Lakers guard Shannon Brown has decided to opt out of the final year of his contract so that he can enter free agency.
Lakers backup guard Shannon Brown informed the team Thursday that he was exercising his option to terminate the final year of his contract to become an unrestricted free agent.

"We made the best decision for me and everybody around me," Brown said in a telephone interview. "It's an interesting time to do this because of the lockout, but I think this is the best thing for me to do right now."

"I haven't ruled out the Lakers," Brown said. "I don't know if they will rule me out. I'm staying open."
Brown, 25, brought an athletic and vertical presence to the Lakers backcourt, which was otherwise comprised entirely of veterans:
Kobe Bryant
,
Derek Fisher
and
Steve Blake
. Brown is probably most known for his leaping ability but he has grown during his time in the NBA, posting a career high of 8.7 points per game in 2010-2011. Brown has also been quite durable, appearing in all 82 games for the Lakers for the second consecutive season.
Clearly, Brown is seeking a big-dollar, multi-year extension from somebody. By opting out, he is passing up the opportunity to make $2.4 million in the 2011-2012 season.
It's unclear exactly how aggressive the Lakers will be in working to keep him, as their payroll already hovers around a league-high $90 million and the team selected two guards --
Darius Morris
from Michigan and
Andrew Goudelock
from the College of Charleston -- in the second round of the 2011 NBA Draft. We won't know until after the NBA lockout is complete.